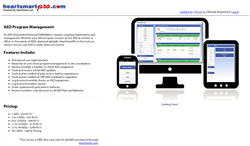 HeartSmartPro.com is a service that provides all the monitoring and maintenance required to keep an AED maintained and ensure a complete AED program is effective
Brookfield, CT (PRWEB) December 14, 2013
HeartSmart.com is pleased to announce HeartSmartPro.com, an AED program management service that provides everything needed to maintain and manage an AED program. With this new product, free for 1 year after any purchase of an AED from HeartSmart.com, your AED will be ready to use when it is need most.
Automated External Defibrillators require ongoing maintenance and management. For any AED program, whether for a small office or a large organization, necessary steps are required to ensure that an AED is ready to be used and effective when needed the most. HeartSmartPro.com is the tool you need to ensure your AED is ready when you need it.
HeartSmartPro.com is a service that provides all the monitoring and maintenance required to keep an AED maintained and ensure a complete AED program is effective. It includes a web-based user login interface to make it simple for anyone to log in from anywhere. Within the system administrators can set up a hierarchy of users from program managers to site coordinators to make sure anyone who needs to be involved is given the access they need.
With monthly e-minders to check AED equipment, it makes it hard to miss a monthly check. HeartSmartPro.com really makes it easy to monitor an AED program without any headache or worry it is not getting done. The HeartSmartPro.com system will also track and receive critical AED updates and notify users of expiring AED pads, battery expirations, as well as CPR/AED certification expirations for personnel.
Beyond the reminders to keep your AED program efficient and maintained, the HeartSmartPro.com system keeps track of what has been done by logging and recording monthly checks on AED equipment and incident reports. You can also easily order replacement pads and batteries for your Automatic External Defibrillator while receiving a member's only discount.
With this new service from HeartSmart.com, maintaining an AED program is easy and effective. This service is free for 1 year for all new AED purchases and starts at only $29.95 a year after that.