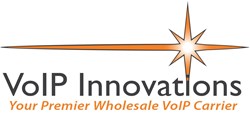 Since we've realized the benefits of having one Porting Rep per port, the possibilities for this department are endless.
Pittsburgh, Pa (PRWEB) December 13, 2013
VoIP Innovations has some big changes in store for its Porting Department. As of this week they have begun using a new system that assigns one Porting Representative to a port. They will also be adjusting their business hours to 8:30 a.m. – 5:00 p.m. starting on Monday, January 2.
The new Porting Rep system was put in place to make the Porting Department run more efficiently and also to create longer lasting relationships with customers. Each port will be randomly assigned to one of the Porting Reps and that Rep will handle the entire port from start to finish.
The system that the Porting Department used to follow required each port to be split based on the different stages it needed to go through. Each stage of the porting process would pass through a different person, sometimes causing things to be done incorrectly. By having one Porting Rep take the port through its entire lifecycle, VoIP Innovation is reducing the amount of possible errors that could surface.
"This just makes sense for our department," said Porting Manager, Barry Yancosek. "Since we've realized the benefits of having one Porting Rep per port, the possibilities for this department are endless."
Nothing else about this department has changed, other than only having to deal with one person for a port. If a customer is interested is seeing who their Porting Rep is, they can view it in their BackOffice account under the Porting Details menu. VoIP Innovations would also like to mention that their Project Porting (50 or more ports) procedures will also remain the same.
This is just the beginning for the VoIP Innovations Porting Department. The team is building stronger relationships with their customers and completing ports more efficiently than ever. Ports are randomly assigned to Reps right now, but for the future, they are planning on allowing customers to choose their favorite Porting Rep.
VoIP Innovations is an Inc. 5000 company that specializes in providing the largest DID and termination VoIP footprints in North America. Their network includes over 500,000 DIDs in stock in over 8,500 rate centers in the US and Canada. Recently, VoIP Innovations expanded their footprint to include DIDs in over 60 countries and now offers A-Z termination. VoIP Innovations is owned by ABG Capital and is based in Pittsburgh, PA. To learn more, please visit the VoIP Innovations Blog.