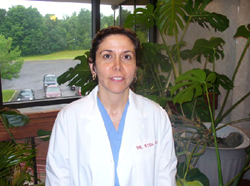 New York, NY (PRWEB) December 12, 2013
Neda Azadivatan is calling attention to the link between gum disease and diabetes. Untreated gum disease is a chronic infection in the body. Diabetes sufferers may be more susceptible to developing this type of infection. Gum disease, in turn, can lead to the development of diabetes because infection can lead to elevated blood glucose levels. Dr. Azadivatan recommends that gum disease sufferers seek treatment as soon as possible to decrease their risk of developing diabetes and other major illnesses. The beginning stages of gum disease may be treated with increased diligence regarding brushing and flossing daily. Advanced cases may require gum disease surgery.
Dr. Azadivatan is one of very few dental professionals in the United States certified to perform the Laser Assisted New Attachment Procedure (LANAP) as an alternative to traditional gum disease surgery. This form of advanced treatment uses a highly selective laser to remove diseased tissue and kill bacteria. Healthy tissue is left intact to allow faster healing times. Because LANAP is less invasive, Dr. Azadivatan finds that patients experience less discomfort and inflammation with LANAP than with traditional surgical methods.
Diabetes is a serious illness in which the body's glucose levels remain at an elevated state. There are many complications associated with this disease and it is regarded as a major disease that could be life-threatening. Good oral health including treatment for gum disease could help reduce an individual's risk of developing this and other diseases including heart disease and pancreatic cancer. In some cases, timely gum disease surgery can also help reduce risk.
For more information about gum disease treatment and overall wellness issues related to gum disease, visit http://www.midtownlaserperio.com for more information.
About The Doctor
Precision Periodontics & Dental Implants is a periodontal practice offering personalized dental care for patients in New York, NY. Dr. Neda Azadivatan is a graduate of New York University and completed her periodontal training at the University of Medicine and Dentistry in New Jersey. Dr. Azadivatan provides dental implants in Manhattan, NY and belongs to the one percent of dental professionals providing the LANAP FDA cleared laser procedure for gum disease and periodontal treatment. As a quality-minded periodontist, Dr. Neda directs and works closely with the technicians who provide assistance and construct the materials used in periodontal treatments. To learn more about Precision Periodontics & Dental Implants and their dental services, visit their website at http://www.midtownlaserperio.com and call (646) 863-8086.