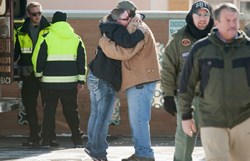 San Jose, CA (PRWEB) December 13, 2013
A family of six (including 4 children) survived the brutal arctic-like cold in a remote location in the northern Nevada mountains. James Glanton (age 34) and girlfriend Christina McIntee (age 25) managed to keep themselves alive after a car crash in the Seven Troughs mountain range.
The family managed to survive two days in the 16-below-zero cold by making the crashed vehicle a makeshift shelter, by warming rocks by the fire, and having a smartphone on hand.
Rescuers found the family by using cellphone forensics, analyzing which towers the girlfriend's phone was in contact with during the trip, giving search and rescue a better idea of where they might be stranded. They were too far off into the wilderness to use their smartphone to call for help, but there was enough signal strength to leave an electronic trail from the early stages of their ordeal.
Search and rescue would have never found the family of six if it were not for smartphone technology. Most modern cellphones have built-in GPS that rescuers can use to estimate a location and can even pinpoint an exact location if the signal is strong enough. Unfortunately, most smartphones (including 3G / 4G phones) do not have enough signal strength for the user to call emergency response for help, however there are ways to boost signal strength and there are devices that can keep you in communication with the outside world.
Improve Survival Odds
To boost a cell phone's signal, all that is needed is a piece of tin foil, just place the tin foil on a surface, and place a cell phone onto the tin foil so that the electromagnetic-frequency is bouncing upwards, this will increase reception and improve chances of being rescued.
There are also satellite phones that are an expensive option, they're called Iridium satellite phones, the most reliable satellite phone is the Inmarsat (retails $600-$700). They are expensive but they do allow the user to keep in contact with anyone in the world including emergency personnel, in case you get lost, stranded, or injured during a trip.
Having a source of communication will greatly improve the odds of survival, it's the most essential tool to have besides extra food and water, but what if you lose power for those smartphones and satellite phones? That's where Suntactics comes in, Suntactics carries a wide range of portable energy options that will keep these devices charged by using the power of the sun. Suntactics now carries an emergency power kit that includes; a portable USB solar charger, a USB battery, and an LED light, this kit will keep an IsatPhone or any smartphone charged. The kit will also charge USB flashlights, headlamps, GPS and SPOT satellite devices.
Despite the lack of food for two days, this family did everything right by having a smartphone on hand, and having the knowledge of basic survival techniques to keep warm, and most importantly, keep calm.