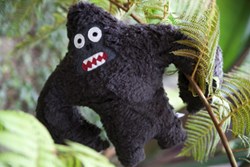 Every time a doll, t-shirt or zip-hoodie is sold, Indy Plush will give a generous 20% donation to the Dian Fossey Gorilla Fund™
Los Angeles, CA (PRWEB) December 13, 2013
Since 1978 the Dian Fossey Gorilla Fund™ has been dedicated to the conservation and protection of gorillas and their habitats by promoting continued research on gorillas and their threatened ecosystems through education and careful collaboration with African governments.
Indy Plush™ has created a unique collection of eco-friendly plush dolls and clothing that will help the Dian Fossey Gorilla Fund carry out their mission. Every time a doll, t-shirt or zip-hoodie is sold, Indy Plush will give a generous 20% donation to the Dian Fossey Gorilla Fund™. Each doll carries a tag that describes the type of Gorilla and how many are left in the wild. Each tag also informs the consumer that the dolls are certified green, made from fabrics sourced in the USA and filled with fibers made from 100% recycled plastic water bottles.
Dian Fossey gorilla dolls are now available through their website http://www.gorillafund.org and selected boutiques throughout the continental US and Canada, Whole Foods Whole Body Departments in Northern California and Oregon, the Indy Plush™ show room in Marina Del Rey, California and through http://www.indyplush.com website.
For more information contact Plinio Garcia at 310-902-1651 or pj@indyplush.com