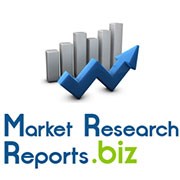 Albany, NY (PRWEB) December 14, 2013
Monoclonal Antibodies Market in Gastric and Esophageal Cancers to 2019 - Crowded Late-Stage Pipelines and Favorable Market Conditions Encourage Robust Growth
Pharma report - "Monoclonal Antibodies Market in Gastric and Esophageal Cancers to 2019 - Crowded Late-Stage Pipelines and Favorable Market Conditions Encourage Robust Growth" Gastric and esophageal cancers are two orphan cancers of the gastrointestinal tract. They are often diagnosed at advanced, incurable stages due to a late onset of symptoms, but are also associated with low survival rates in the early stages of disease. Currently the primary treatment options are chemotherapy and surgery, which are used wherever possible. One monoclonal Antibody (mAb), Herceptin (trastuzumab) is marketed for use in suitable patients with advanced gastric or gastro-esophageal junction cancer. However, the late-stage pipelines for these indications include many promising mAb candidates which are anticipated to enter the market during the forecast period. Additionally, current market conditions are favorable for new mAbs, with high pricing patterns and weak impact from biosimilar exposure. As a result of this, GBI Research believes the global market has the potential to grow to a value of $766m by 2019.
To read the complete report with TOC, visit: http://www.marketresearchreports.biz/analysis-details/monoclonal-antibodies-market-in-gastric-and-esophageal-cancers-to-2019-crowded-late-stage-pipelines-and-favorable-market-conditions-encourage-robust-growth.
Scope
A brief introduction to the two indications, including the disease's pathogenesis, risk factors, diagnosis and treatment algorithms.
In-depth analysis of Herceptin, including analysis of its safety, efficacy, treatment patterns and strengths/weaknesses.
A comprehensive review of the pipeline for mAbs in gastric and esophageal cancer, including individual analysis of a number of late-stage pipeline drugs that are likely to enter the market in the forecast period. The pipeline is analyzed on the basis of phase distribution, molecule types and molecular targets.
Additional in-depth analysis of pipeline drug clinical trials by phase, trial size, trial duration and program failure rate analyses for each molecule type and mechanism of action.
Multi-scenario forecast data of the market to 2019, taking into account how it will be affected by the introduction of new drugs, the expiry of key patents on current drugs and the changes in disease epidemiology across the key developed markets including the US, Canada, Japan, Germany, the UK, France, Italy and Spain.
Discussion of the drivers and barriers for market growth.
Click here to download detail report: http://www.marketresearchreports.biz/sample/sample/180975.
Reasons to Buy
Understand the unmet need in the treatment of these cancers, the role of Herceptin and the areas of opportunity for other mAbs to enter the market.
Understand the vast scope of the pipeline, including which molecule types and mechanisms of action are prominent.
Observe the trends in clinical trial duration, size and molecule types across the phases of development and use the clinical trial failure rate analysis to assess the risk profiles of current and/or future developmental programs for mAbs in gastric and esophageal cancers.
Observe the shift in clinical trial endpoints with clinical phase, and use this data to potentially influence any future developmental programs.
Assess the potential clinical and commercial impact of current late-stage pipeline molecules on the market for mAbs in gastric and esophageal cancers.
Table of Contents
1 Table of Contents
1.1 List of Tables
1.2 List of Figures
2 Introduction
2.1 Symptoms
2.1.1 Early Gastric Cancer
2.1.2 Early Esophageal Cancer
2.1.3 Advanced Gastric or Esophageal Cancer
2.2 Etiology
2.2.1 Esophageal Cancer
2.2.2 Gastric Cancer
2.3 Epidemiology
2.4 Pathophysiology
2.5 Diagnosis
2.6 Prognosis and Disease Staging
2.7 Treatment Options
2.7.1 Chemotherapy
2.7.2 Targeted Therapies
2.7.3 Treatment Guidelines
2.7.4 Resistance to Pharmacological Therapies
2.8 GBI Research Report Guidance
3 Monoclonal Antibodies Market in Gastric and Esophageal Cancers to 2019- Marketed Products
3.1 Herceptin (Trastuzumab) – Hoffman La Roche
4 Monoclonal Antibodies Market in Gastric and Esophageal Cancers to 2019- Developmental Pipeline
4.1 Gastric Cancer
4.1.1 Overall Pipeline
4.1.2 Molecular Targets
4.1.3 Clinical Trials
4.1.4 Conclusion
4.2 Esophageal Cancer
4.2.1 Overall Pipeline
4.2.2 Molecular Targets
4.2.3 Clinical Trials
4.2.4 Conclusion
4.3 Key Late-Stage Pipeline Products
4.3.1 AMG 102 (rilotumumab) – Amgen
4.3.2 IMC-1121B (Ramucirumab) – Eli Lilly and Company
4.3.3 Theraloc (Nimotuzumab) – YM Biosciences
4.3.4 MetMAb (Onartuzumab) - F. Hoffmann-La Roche
4.3.5 Perjeta (pertuzumab) - F. Hoffmann-La Roche
4.3.6 Kadcyla (ado-trastuzumab emtansine) - F. Hoffmann-La Roche
4.4 Conclusion
To buy the copy of this report, visit: http://www.marketresearchreports.biz/analysis/180975.
5 Monoclonal Antibodies Market in Gastric and Esophageal Cancers to 2019- Market Forecast to 2019
5.1 Gastric Cancer
5.1.1 Global
5.1.2 US
5.1.3 Canada
5.1.4 Europe
5.1.5 Japan
5.2 Esophageal Cancer
5.2.1 Global
5.2.2 US
5.2.3 Canada
5.2.4 Europe
5.2.5 Japan
5.3 Drivers and Barriers
5.3.1 Drivers
5.3.2 Barriers
6 Deals and Strategic Consolidations
6.1 Licensing Agreements
6.1.1 Gastric Cancer
6.1.2 Esophageal Cancer
6.2 Co-Development Agreements
6.2.1 Gastric Cancer
6.2.2 Esophageal Cancer
About Us
MarketResearchReports.Biz is the most comprehensive collection of market research reports. MarketResearchReports.Biz services are specially designed to save time and money for our clients. We are a one stop solution for all your research needs, our main offerings are syndicated research reports, custom research, subscription access and consulting services. We serve all sizes and types of companies spanning across various industries.
Contact
M/s Sheela
90 Sate Street, Suite 700
Albany, NY 12207
Tel: +1-518-618-1030
USA – Canada Toll Free: 866-997-4948
Website: http://www.marketresearchreports.biz/
Blog: http://industry-research-reports.blogspot.com/