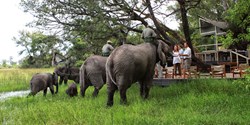 "We are 100% committed to preserving and sustaining these magnificent continents and islands." - Gara, Managing Director
Botswana, Africa (PRWEB UK) 16 December 2013
To celebrate in style, Mirus are offering visitors to the camp in Botswana's Okavango Delta a reduction of 50% until the middle of April 2014. Mirus are the provider of luxury travel, taking clients to some of the most remote, extraordinary, and pristine destinations in the world.
Earlier this month Kiti, an elephant from the Abu Camp's herd, gave birth to a new calf named Naledia – Setswana for star. She earned her name being born on a completely clear and cloudless night. It is a rare experience to be able to experience a baby elephant first hand, and Mirus Journeys are urging customers to book now will the calf is still young.
Botswana is a popular safari destination. Twice the size of the United Kingdom, it boasts some of the best wilderness and wildlife areas in the whole of Africa, and only holds a population of around 2 million people. Travellers are guaranteed an experience to remember as many of these wildlife are native only to Africa.
Mirus Journeys are dedicated to responsible tourism – having low impact on the environment and community by acting responsibly while generating an income and employment for those in the local community. Gara Gharagozlou, the Managing Director has said "We are 100% committed to preserving and sustaining these magnificent continents and islands." Gara has a background in running a successful safari camp in Botswana, having trained as a guide and ranger,
They are partnered with many pioneers, such as The Wilderness Wildlife Trust who support a number of projects in southern Africa, focusing around wildlife population and working to save endangered species.
Mirus offer a number of other special offers, and prices start from £2,500. A price tag slightly out of the comfort zone of most, but Mirus ensure that every experience is bespoke to you and that it is something to remember for a lifetime.