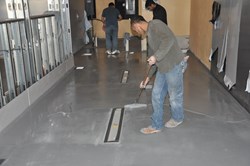 "Our kitchen floor is easy to maintain and clean while keeping my customers and employees on their feet." ~ George Vatz, Owner
Wall, NJ (PRWEB) December 15, 2013
Lasalos Market in Normandy Beach, N.J., recently underwent a complete renovation. The deli had to remove a corroded vinyl composition tile floor with mastic glue attached to the concrete slab and replace the commercial kitchen floor with a seamless floor coating system.
Due to the rigorous production schedules at the deli, it could not risk shutdown time. It was opening in conjunction with the start of the bustling summer season at the Jersey Shore.
And since the deli is located in close proximity to the ocean, the concrete floor needs the right solution to resist moisture within the slab.
The old flooring system including mastic glue had to be properly removed to ensure that the new floor would adhere to the concrete slab. Using a hand grinder, the installation team removed the tile. Then the urethane floor coating was applied using multiple broadcasts, which is known as a build-able system. It stands up better to traditional epoxy solutions for a site that is subject to extra floor moisture.
The floor system was installed on time and within budget, without minimizing interruptions at the deli. It also adhered to food service regulations and provided a slip-resistant coating that would hold up to heavy traffic.
"We are very pleased; very satisfied.  We would do another floor with Garon and the same floor coating system. Our kitchen floor is easy to maintain and clean while keeping my customers and employees on their feet," said George Vatz, who owns the deli.
After taking on four feet of water during Hurricane Sandy, the floor stayed in peak condition and the deli reopened for the summer of 2013.
Watch this video to see the live commerical kitchen floor coating application or visit http://www.floorcoatingtv.com/concrete-floor-coatings/commercial-kitchen-floor/.
About Garon Products Inc.
Garon Products Inc. is the leading direct marketer of concrete repair and floor coatings through its catalog "Concrete Floor Solutions". Garon also manufactures specialized floor coatings and concrete resurfacing products for every flooring application. The line includes epoxy, cement urethane and polyaspartic compositions. For more information, visit http://www.garonproducts.com.