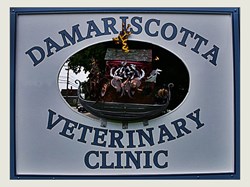 Cats are masters at hiding illness.
Damariscotta, ME (PRWEB) December 16, 2013
As mentioned in previous Ask The Vet articles, wellness or preventive care checkups are very important for the health of pets. Over the past couple of years, a disturbing trend has emerged of cat visits to veterinarians declining. If a cat has an exam at least once a year, it's equivalent to a human being going to the doctor once every five to seven years. Since cats hide illnesses so well, it is suggested by the American Association of Feline Practitioners that cats have preventive-care exams twice a year.
Cats are masters at hiding illness until they have reached or almost reached a crisis stage. Often when an owner notices that their cat has not been well for a few days, in reality the cat has probably been ill a lot longer. It is important for owners to know their cats' habits, such as when they normally eat, go out, use the litter box, how they behave, etc. Healthy cats typically have fairly predictable schedules. They normally sleep 16 to 18 hours a day and eat, drink and use the litter box regularly. Being able to identify any out of sorts behavior helps catch illness early. The signs a cat will show when they are not feeling well are mostly behavioral. Some things to watch for are: inappropriate elimination, changes in interactions with family, changes in activity and/or sleep habits, unexplained weight loss or gain, increase or decrease in food and/or water consumption, changes in grooming habits, changes in vocalization habits and bad breath.
When taking a cat to the vet for an exam, be sure to mention any behavior changes or other noticeable change in normal behavior and habits. This information is helpful to the veterinarian in determining how the pet's health is. Annual wellness blood tests are also a good idea, along with a urinalysis. These tests can identify signs of early kidney and/or liver disease, diabetes, thyroid problems and more. Your veterinarian can deliver better healthcare when a pet is brought in more often for preventive care exams. Don't be hesitant to call the vet as soon as possible.
About the company:
Damariscotta Veterinary Clinic is a full-service veterinarian providing medical, surgical and dental care in a compassionate, caring manner with a personal touch. Damariscotta Veterinary Clinic is a staple in the mid-coast Maine area and has been proudly serving residents of Damariscotta for over 50 years. For more information, visit: http://www.myvetonline.com/damariscottavet/general-information.html.