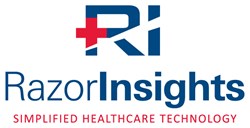 "We're confident there will be 52 more children smiling this Christmas," explained Jeremy Mitchell, Director of Marketing.
Kennesaw, GA (PRWEB) December 17, 2013
RazorInsights' employees recently established the first Monday in December as Founder's Day. Three years ago in December 2010, RazorInsights' Chief Executive Officer - Reed Liggin, Chief Innovation Officer - Edward Nall, and Chief Operating Officer - Michael McKenzie launched the company in very uncertain economic times. The company's founding executive team and its employees feel very blessed that the company has done so well and truly exceeded their expectations.
In thanksgiving for the company's many blessings and successes, and to honor the executive team, RazorInsights' employees began in November building shoeboxes in support of Operation Christmas Child. Seeing these charitable actions, the company's executive team established a matching program. During a company meeting in early December, a truckload of toys was delivered to the company's headquarters and employees collaboratively built 26 shoeboxes of gifts for boys and girls. In addition, as part of the Founder's Day celebration, company executives have instituted a new program where every RazorInsights employee will have the opportunity to take one paid vacation day off each year and donate that time to do volunteer work at an organization of their choice.
"Our three founders had a vision and saw an opportunity. They took a big risk starting our company during such poor economic times. As employees of this terrific organization, we feel very blessed, and wanted to find a way to pay tribute to them, while also paying our blessings forward to those less fortunate. We're confident there will be 52 more children smiling this Christmas," explained Jeremy Mitchell, Director of Marketing at RazorInsights.
In the future, each November, RazorInsights' employees will select a new charity with which to work. To learn more about this year's charity, Operation Christmas Child, please visit http://www.samaritanspurse.org/what-we-do/operation-christmas-child/.
About RazorInsights
Based in Kennesaw, Georgia (metro Atlanta area), RazorInsights is a dynamic healthcare information technology company. In keeping with the principle of Occam's Razor, the company has created a simplified HIS solution for rural and critical access hospitals - ONE (ONC-ATCB 2011/2012), a single-database cloud solution offering a simple user experience with cutting-edge clinical tools and industry-standardized data. Hospitals can expect to improve their performance and bottom line with ONE from RazorInsights. For more information, visit http://www.razorinsights.com or call 770-308-4111.