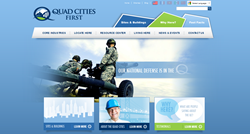 "We did an incredible amount of research when we overhauled the Quad Cities First website, and this award reinforces that it is serving the needs of our target markets."- Tara Barney, CEO, Quad Cities Chamber
(PRWEB) December 16, 2013
(Quad Cities) – The Quad Cities Chamber's business attraction website QuadCitiesFirst.com has been recognized by the Mid-American Economic Development Council (MAEDC) with a first place award in the Online Marketing category, small division. The website is used as part of the Chamber's efforts to attract new businesses to the region.
"One of the most effective ways to reach site location decision makers is through an economic development organization website," says Tara Barney, CEO, Quad Cities Chamber. "We did an incredible amount of research when we overhauled the Quad Cities First website, and this award reinforces that it is serving the needs of our target markets."
The Quad Cities First website aims to provide site location consultants with the data they need about the Quad Cities business climate including taxes, incentives, available buildings and sites, workforce, cost of doing business, and demographics.
MAEDC provides economic development professionals with resources and best practices, regional promotion to site selectors and industries, and networking. The awards criteria are based on quality of content, visual impact, design, and uniqueness, innovation and originality.
This is the second award the Quad Cities First website has earned. It was previously recognized with an Award for Communications Excellence by the American Chamber of Commerce Executives.
About: The Quad Cities Chamber of Commerce is the largest business organization serving the eastern Iowa and western Illinois region, representing nearly 2,000 member businesses. The Chamber provides business and economic development services that build upon our mission to strengthen and enhance the business environment, represent the interests of our members, and foster balanced growth in the Quad Cities region.