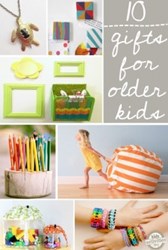 Save money with these great tips from seasoned Moms.
Dallas, Texas (PRWEB) December 22, 2013
Ready to finish the last shopping errands? Gift ideas for older kids and super secret shopping after Christmas tips have been released on Kids Activities Blog. Read these great tips from seasoned Moms before heading out to the last shopping trip.
The list of cool homemade gifts for older kids include a cute homemade bean bag chair. The kids will love to have their own cozy corner in their room. Another great idea is making a pencil holder out of a piece of wood. Simply drill holes inside the block of wood and fill them with a set of cool pens.
Friendship bracelets, cute magnetic homemade frames, a hooded scarf with mittens, and a T-Shirt kit with craft supplies are only a few of the many ideas listed on Kids Activities Blog. Let the child's imagination roar with these great homemade gifts that come straight from the heart.
The little secret that can completely change holiday shopping for a lot of frugal minded families is to shop during the after Christmas clearance sale. Family budgets are tight these days. Shopping the after Christmas sale not only saves money, it helps to stay in the planning ahead mode for the entire year.
Malls after Christmas will be crowded yet the spirit of the shoppers is different. Fewer people are stressed, rushed or fighting over the marked down items. In the midst of the gift exchangers are the frugal minded shoppers with loads of wrapping paper and Christmas decorations who are getting ready for next year.
After Christmas frugal shoppers still have to keep in mind several things including to double check any items that seem to have been returned for completeness. Also keep in mind to not purchase any unnecessary items, to prepare an allocated space at home to store the gifts until next year and to label any items that will be stored for next years Christmas.
For detailed instructions and to get additional helpful tips, check out Kids Activities Blog this week. Come get inspired to save some money during the holidays.
About Kids Activities Blog
Kids Activities Blog is a website created by two moms (who collectively have 9 children), Rachel Miller and Holly Homer from June Cleaver Nirvana. It is their daily goal to inspire parents and teachers to play with kids. This interactive website publishes simple things to do with kids twice a day. Kids Activities Blog is a great tool for moms and teachers to find kid-friendly activities that create memories and sneak learning into the fun.