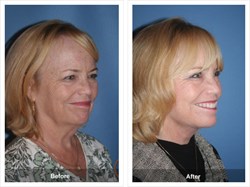 I went to Dr. Sadati for a neck and lower facelift. I had a great experience and the results are fantastic! I look very natural and a good 10 years younger. The staff is excellent and all care was top notch.Ann
Newport Beach, CA (PRWEB) December 27, 2013
For men and women who hope to look their best in the New Year, Dr. Kevin Sadati offers a unique natural facelift procedure that ensures lasting, youthful results. Dr. Kevin Sadati pioneered a facial and neck muscle tightening technique called the Double "C" Plication. This procedure improves the laxity of patients' jowls, cheeks, and necks on women and men from their 40s to older. This Double "C" Plication technique offers several advantages over other traditional methods.
This natural face and neck lift is performed under local anesthesia and twilight sedation, eliminating the risk and expense of general anesthesia. A patient can take ten years off his or her face and neck in the course of two hours, and because of the procedure's quick recovery time, patients can return to their usual activities within a week to ten days.
During the 10th International Symposium of Facial Plastic Surgery's meeting in Fort Lauderdale, FL, Dr. Kevin Sadati reported the remarkably low revision rate associated with this procedure. Following the conference, Dr. Kevin Sadati explained how the procedure's lasting results are so consistently successful during an interview, stating, "I use a double-layered SMAS plication (facial muscle tightening) sutures, which creates multiple fixation points, and ensures that over time, the tissue will stay in place and not lead to early tissue laxity."
The American Journal of Cosmetic Surgery published Dr. Kevin Sadati's paper discussing this unique facial muscle tightening technique, with astounding reviews from his peers. Dr. Kevin Sadati has been invited to premier plastic surgery conventions such as American Academy of Facial Plastic Surgery, American Academy of Cosmetic Surgery, and American College of Osteopathic Otolaryngology & Facial Plastic Surgery, in order to educate other plastic surgeons on his facial rejuvenation technique.
Although patients who had this procedure will look refreshed and youthful this does not mean that patients will look entirely different, just younger versions of themselves. The Double "C" Plication technique prevents the "pulled" or "artificial" look often associated with facelifts. The Natural Lift results are subtle, yet effective. Patient's friends and co-workers often remark that they look refreshed and wonder if they lost weight, got a new haircut, or took a relaxing vacation after the procedure.
Dr. Kevin Sadati is one of the most in-demand face specialists in the Southern California region; he has performed more than 2,500 face and neck lifts using his unique technique. He often lectures on his renowned Double "C" Plication technique to other facelift surgeons.
To learn more about this wonderful facial rejuvenating procedure, patients can schedule a complimentary cosmetic consultation with Dr. Kevin Sadati at the Gallery of Cosmetic Surgery in Newport Beach, Calif.