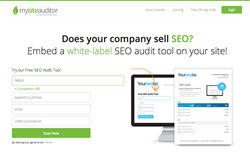 white-label website audit tool that can be easily embedded on any digital marketing, SEO, web design, or online PR agency's website to help generate more leads and sales
Chicago, Illinois (PRWEB) December 17, 2013
SEOGROUP launches "MySiteAuditor", a white-label website audit tool that can be easily embedded on any digital marketing, SEO, web design, or online PR agency's website to help generate more leads and sales.
How It Works
1. Create an account and login (Try the 30 day trial)
2. Upload agency logo, colors, and contact info
3. Generate and copy the snippet of code provided
4. Paste the snippet of code on any digital marketing website
5. Get email notifications (with contact info) of new leads who use your website audit tool
Instead of expecting website visitors to fill out a contact form or call a phone number, MySiteAuditor lets website visitors instantly audit their own website for free and compare it to high ranking websites, if they enter their name, email and phone number. The audits are ready in about 45 seconds, can be instantly downloaded or printed, and include over 50 critical SEO checks, based on Google's search algorithm
In addition to leads, MySiteAuditor also increases sales by giving sales people a quick and detailed 9-page SEO audit of any prospective client's website compared to higher ranking competition. Sales people can show prospects every single thing high-ranking competition is doing on their website that their prospect is not.
Key Features:

MySiteAuditor is easily white-labeled and embedded on any website (takes 2-3 minutes!)
MySiteAuditor is free for visitors but requires their basic contact info
Instant email notifications with prospects contact information
Organize and save audits
All audits are downloadable and printable
MySiteAuditor audits individual web pages for targeted keywords (in addition to entire websites)
Comparison tool for comparing to high ranking web pages
Audits based on 50+ proven SEO checks of Google's search algorithm
Audits and comparison audits are excellent for sales meetings to impress clients
Who is it for?
Digital Marketing Agencies
SEO Firms
Web Design Companies
Online PR Agencies