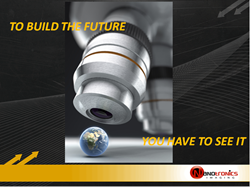 Nanotronics' fundamental advances in optics will dramatically enhance the production lines of many of the most critical industries of the future." Peter Thiel
Brooklyn, NY (PRWEB) December 16, 2013
Nanotronics Imaging, a leading developer of optical inspection tools for the semiconductor industry, announces it has completed a $7M Series B financing round from Founders Fund, a San Francisco-based technology investment firm that has backed companies including Palantir, SpaceX, Facebook, ZocDoc and The Climate Corporation.
"We at Nanotronics are thrilled to be partnering with this highly regarded and successful venture firm that shares our vision for transformative technology," says Nanotronics Imaging Founder and CEO Matthew Putman. "Our company's customer base is rapidly growing, and this investment will ensure that we will be able to continue to provide and scale best-in-class products and services to the semiconductor industry, as well as to expand our offerings into new domains such as biomedical diagnostics."
Nanotronics Imaging combines state-of-the-art optical microscopy with patented image processing and machine intelligence algorithms to produce inspection tools used in a wide variety of manufacturing environments. Nanotronics technology allows for the imaging of a very large area of a specimen with nanoscale resolution. Their nSpec tool couples a computer-controlled microscope and stage with fast image processing techniques to enable high-throughput defect classification and localization for semiconductor substrate and IC chip fabricators.
Founders Fund Partner Peter Thiel, who will be joining the Nanotronics Board of Directors, says "Four centuries ago, Galileo's mastery of optics revolutionized our understanding of the universe. Today, Nanotronics has brought us to the cusp of a new revolution on the other end of the scale, as more industrial processes take advantage of nanoscale structures. Nanotronics' fundamental advances in optics will dramatically enhance the production lines of many of the most critical industries of the future."
Nanotronics Imaging was founded in 2010 by CEO Matthew Putman, Ph.D., former professor of materials science and engineering at Columbia University and John Putman, former CEO of the automated instrumentation company Tech Pro, which was sold to Roper Industries in 2008.