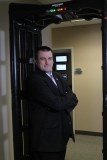 Global's private charter screenings provide a quicker security screening process that ensures discretion for the celebrity and VIP clients.
New York, New York (PRWEB) December 16, 2013
Global Elite Group (GEG) will be exhibiting at the 2014 NBAA Schedulers & Dispatchers Conference in New Orleans January 14-17, 2014. GEG will be displaying expanded service and product offerings for the business travel aviation market. "Business aviation security services continues to be an area of growth for us. There is an increased need for VIP and customized concierge services for added security in this market segment," stated William McGuire, President & CEO of Global Elite Group. Worldwide services for this expanding market are seeing double-digit growth in some regions with deliveries of new business jets up 4 percent over the previous year reflecting a greater supply need, rather than replacement of deteriorated aircraft. The conference, now in its 25th year is part of a larger organization serving the transportation of business executives through aviation since 1947.
GEG will be demonstrating the newest technology in walk-through metal detectors for its security screening services. Business aviation services from GEG are designed to assist companies in making their travel more efficient by utilizing the most effective means of getting a traveler to their destination while meeting all TSA regulations. Global's private charter screenings provide a quicker security screening process that ensures discretion for the celebrity and VIP clients. Addressing some of the challenges travelers in this segment of the market face while providing the same security of a commercial airline are services GEG has been supplying major airlines and regional airways for over a decade.
Serving the business aviation industry since 2002, GEG also provides security detection technology through its authorized dealer program with CEIA Screening metal detectors. "Our metal detectors and other security products are available through a leasing program, purchase or for on-going security assistance," explained Andrew Compas, Business Development, Northeast Region.
Global is positioned to supply Fixed Base Operators (FBOs) with all the necessary security services as demand for service by the FBO grows due to the increase in business travel. Some of the areas which GEG will be meeting this goal is through the supply of security personnel .GEG also works with sports teams on tight schedules to get players to their games, executives traveling for meetings, VIPs and foreign dignitaries. Global Elite Group accomplishes this through their locations of aviation security management offices at all the major airline hubs in the U.S. Because GEG has a presence at all the major airports, security staff, equipment and other related support services are never far away in the event additional support, for any reason, is needed.
About Global Elite Group: With offices located throughout the world, the company provides security and emergency management services for companies of all sizes and is known for its emergency contingency planning in all markets and its aviation security programs for over 28 airlines located in the U.S. and abroad. The company is always expanding services to compliment the security needs of individuals, companies, high profile travelers and events. The company is TSA certified to provide screenings to individuals and groups. Global Elite Group is a full-service event security management company with security details available for deployment to cover small venues to large-scale multi location events. Other services include risk assessments and asset protection.