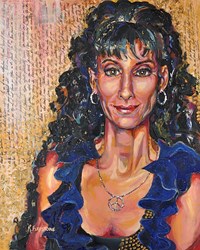 I think the 'Spirit' behind Robbi's work is the ability to go beyond the physical world and feel the people that she is painting.
Santa Fe, NM (PRWEB) December 19, 2013
Life Magic Coach Sharon Ballantine interviews oil portrait artist Robbi Firestone for The Sharon Ballantine TV Show on December 17, 2013 @11am PST.
Ballantine's hour-long show inspires conscious conversation between thought leaders, visionaries, and 'cultural creatives' about life, passion, and manifesting desires: The Law of Attraction. Firestone will be the first fine artist ever featured.
The Sharon Ballantine show is a source of inspiration for viewers and part of Ballantine's educational outreach for 'living a more a joyous life.' "I never try to teach anything," says Ballantine, "the value for the viewers is in whatever they hear that day that they may use in their own life experience."
After meeting at a party and developing a instant, deep friendship, Firestone painted Ballantine's Spirit Capture Portrait, a process that honors the sitter's 'inner beauty' as well as physical likeness. Firestone embeds an intuitive response upon each painting based on her feelings of the sitter in her handwritten, beautiful calligraphy: the Spirit Capture Letter.
The purpose of this intuitive, inspirational writing by Firestone? She says, "To remind my Muse (or sitter) of their infinite, true beauty. That she is One with Spirit, cherished, an exquisite Being in her own, individual way. This written aspect of the painting supports my life's mission: to inspire and empower women to live more creative, authentic, joy-filled lives everyday."
In a recent interview, Ballantine noted, "I think the 'Spirit' behind Robbi's work is the ability to go beyond the physical world and feel the people that she is painting." Robbi not only finds inspiration in the individual but looks directly at their inner-most being and translates this to oil paintings." Ballantine says, "We both work in what I call the energetic world of the Universe," a shared practice sure to invoke a riveting dialogue between two unshakable women.
This episode of 'The Sharon Ballantine TV Show' on Conscious Evolution Media December 17, 2013 at 11amPDT, 12pmMDT, 1pmCDT, 2pmEDT.
Robbi Firestone is an oil portrait artist known for her prized "Spirit Capture" portrait commissions, called Spirit Capture Portraits, which deftly reflect her subjects' inner selves, hopes, and dreams, as well as the faces they show to the world. Subjects include Michael Beckwith of bestselling book and film, "The Secret," Bart Millard of best-selling band MercyMe, and 3-time Grammy Winner, Keb'Mo,' and Esalen Institute co-founder Michael Murphy, who authored "Golf in the Kingdom."
Learn more about Spirit Capture Oil Portrait Commissions and Robbi Firestone's work at http://www.robbifirestone.com.
Sharon Ballantine's show teaches people how to befriend their own internal guidance system and tap into their own personal well being. She teaches The Law of Attraction and tools on how to change limiting beliefs and create expectations that help manifest desires. Ballantine tells stories of parenting three kids and how she came to teach her children how to trust in their own internal guidance system and processes she uses in coaching her clients. Ballantine interviews people on the show that want coaching or desire a conversation about parenting, the laws of the Universe or any other interesting subject. Interested in becoming a guest or have a question for the show? Contact http://www.sharonballantine.com.