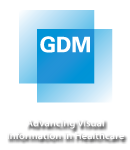 Duluth, MN (PRWEB) December 16, 2013
Global Device Management (GDM) software's ability to provide visual capture and collaborative clinical use of critical, visual patient data has been recognized as a game-changing solution by the 2013 Fierce Innovation Awards panel. GDM's VACS® (Video Archiving and Collaboration System) will bring always-on mobile, rich-media collaborative tools to the telemedicine-oriented global healthcare market predicted to be $27.3 billion by 2016. VACS® will make it easier and more economical for healthcare professionals to share meaningful visual patient imagery; to provide unprecedented collaborative tools; and to mange the remote, universal medical records of the Affordable Care Act future. The transformative and innovative features of their software platform brought Global Device Management into Fierce Innovation's 2013 finalist category of Clinical Information Management.
"GDM is honored to be named a finalist for the 2013 Fierce Innovation Award," said Mike Lyttle, GDM's President and Co-Founder. "This recognition from a nationally known group reinforces our platform as a time-saving, intuitive and easy-to-use tool that will improve healthcare." VACS® provides capture capabilities and collaborative tools using typically "un-captured" but critical visual information distributed between clinicians and specialists in different departments or between patients, clinicians or specialists in different locations. Lyttle, who brings more than a quarter of century of outstanding and innovative achievements in the medical device and healthcare industries, concluded, "Customers and patients will benefit from increased efficiency, increased diagnostic speed and the increased treatment effectiveness offered by VACS®."
"VACS® will significantly expand global telehealth initiatives," said David Harris, Executive Vice President and CTO of GDM, "Our platform offers real-time telemedicine as a planned event and it additionally and importantly provides the ability to record a real-time telemedicine event for review and collaboration." Harris has more than 25 years of experience designing customer-driven healthcare products. He also stressed, "VACS offers secure Cloud capabilities with both enterprise and mobile + apps solutions to bridge all communication modalities inside and outside the healthcare facility."
GDM has been delivering visual elements of patient-healthcare encounters for a decade. The original company completed its first product development in less than four months followed up by the first hospital sale in six months. GDM was profitable by 2007 and by 2012 had achieved double-digit revenue growth. GDM has been driven by the leadership skills of Lyttle and Harris throughout the company's successful evolution. Late in 2012, GDM spun off its original hardware-based division to focus on the development and marketing of the VACS® platform. Now, after only a year of development, GDM has been nominated for the 2013 Fierce Innovation award for VACS®.
About Global Device Management
Global Device Management, LLC (GDM) is a Chicago, Il based healthcare applications development and marketing company providing an advanced Mobile Visual Information Collaboration platform (VACS®) for use across many medical applications, functions and specialties.
The company's sole focus is continued development and expanded market penetration of our visual clinical information technology platform and its ancillary applications to all clinical areas where a need for greater efficiency, effectiveness, and better clinical communication is present.
For more information, please visit http://www.gdmworld.com, or contact:
Michael G Lyttle, President
mglyttle(at)gdmworld(dot)com
612-308-3295