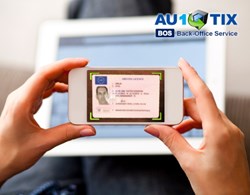 In the world on online, with much greater volumes on applications, coming from anywhere at any time, and with customer patience span shortening – that's when the full scope of benefits of our AU10TIX BOS solution becomes compelling
Nicosia, Cyprus (PRWEB) December 18, 2013
"Up to 9% of all online transactions carried out during the period under review will turn out to be fraudulent", says a fresh Trustev report. A great deal of the fraudulent activity will only become apparent after year-end when customers start receiving their credit card statements, having a massive impact on a retailer's balance sheet for several months. "The sheer volume of transactions occurring online during the holiday period", denotes "Thepayers.com" industry portal: "means that while awareness is heightened, many retailers, banks, and credit card companies are forced to relax their security and fraud protection in order to cope with the onslaught of card payments."
(Source: http://www.thepaypers.com/e-identity-security-online-fraud/us-online-retailers-to-lose-usd-63-mln-between-thanksgiving-and-cyber-monday/753385-26)
Across all regulated markets, customer identity is verified, according to KYC regulations, based on the examination of customer's ID document and customer data against identity verification resources and watch lists. Once "passed" the identity verification hurdle, detecting fraud happens primarily "post mortem" – namely by detecting suspicious transaction behaviour. Behaviour-based, second-line fraud detection technologies are already widespread, but many enterprises and service providers still rely on slow and often ineffective manual ID examination and processing as first-line solution.
Online and mobile ID authentication and record processing technologies are already making headway to banking, financial services, gaming, telecom, car sales and rental, and other "E-tailing" markets. AU10TIX has introduced the BOS online solutions already 2 years ago. AU10TIX BOS automates the identification, authentication and validation of ID document images that customers submit on line. BOS also transforms these ID images to workable digital records in seconds, enabling rapid and more effective response to customer applications. As the company's pipeline suggests, 2014 will see an accelerated deployment of AU10TIX BOS solutions with more players, more markets and more industries.
"As soon as decision makers realize that it is far more than automating ID fraud detection, business rationale kicks in", says Ron Atzmon, Managing Director of AU10TIX: "In the world on online, with much greater volumes on applications, coming from anywhere at any time, and with customer patience span shortening – that's when the full scope of benefits of our AU10TIX BOS solution becomes compelling".
"If you can decide between an army of back-office reviewers processing up to hundreds and thousands of images an hour, and an automated solution that does that far faster and far more accurately - what would you choose?", says Ofer Friedman, VP Marketing of AU10TIX:"It is the economy of scale in the online space that makes automation a necessity for survival and growth. With the AU10TIX BOS solution in place you can accelerate customer screening and onboarding while enhancing the effectiveness of your fraud protection. This means business. This is a competitive advantage on top of cost saving and KYC compliance"
About AU10TIX
AU10TIX Limited, a fully owned subsidiary of ICTS International N.V, deals with the authentication and digitization of identifying documents including Passports, identity cards, driving licenses and other complementary identifying documents. The company specializes in implementing hardware & software based applications used for scanning, identifying, content retrieval, authentication and validation of identifying documents. AU10TIX is a pioneer of all-channel (front-end and online) ID authentication and processing solutions. The company's products drastically reduce identifying document-based fraud, reducing the costs associated with client processing and enabling effective regulatory compliance, while making the sales and support operations speedier and considerably more efficient.
For more information, visit http://www.au10tix.com
About ICTS International N.V.
ICTS specializes in the development and implementation of innovative security concepts and solutions designed to meet the needs of a variety of industries, mainly aviation transportation, border control and sensitive facilities. ICTS International benefits from over two decades of expertise and international operational experience in transportation security, with a particular emphasis on high-risk environments, passenger processing transactions and the integration of security services to provide a comprehensive security solution. It also offers a wide variety of customized training programs, tailored procedures and a wide range of security consulting services. The company has developed and implemented unique technological solutions, based on its comprehensive approach to security, designed to enhance the level of security while accelerating the security check process.
For more information, visit http://www.icts-int.com
This press release contains "forward-looking statements" within the meaning of the Private Securities Litigation Reform Act of 1995, regarding the Company's business strategy and future plans of operations. Forward-looking statements involve known and unknown risks and uncertainties, both general and specific to the matters discussed in this press release. These and other important factors, including those mentioned in various Securities and Exchange Commission filings made periodically by the Company, may cause the Company's actual results and performance to differ materially from the future results and performance expressed in or implied by such forward-looking statements. The forward-looking statements contained in this press release speak only as of the date hereof and the Company expressly disclaims any obligation to provide public updates, revisions or amendments to any forward-looking statements made herein to reflect changes in the Company's expectations or future events.
Contact:
AU10TIX
Ofer Friedman, Director of Marketing
Email: ofer.friedman(at)au10tix(dot)com
Tel.: +972-50-4 71 71 50
ICTS International NV
Alon Raich
Email: mail(at)ictsinternational(dot)com
Tel.: + 00-972-974-47770