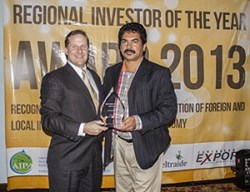 Qualfon is one of the few companies whose resilience has been evidenced and whose commitment to the growth of our local economies must be applauded.
Georgetown, Guyana (PRWEB) December 16, 2013
Qualfon, a leading global busineQualfon Guyana Receives Foreign Investor of the Year Award from CAIPAss process outsourcing (BPO) and call center services provider, received the Foreign Investor of the Year Award from the Caribbean Association of Investment Promotion Agencies (CAIPA) and the Caribbean Export Development Agency. This award recognizes foreign investors (non-Caribbean nationals) whose investments have generated a significant impact on jobs creation and the local community. Qualfon was specifically recognized for its investments in Guyana, a native-English-speaking country in South America.
Qualfon was nominated for the award by GO-Invest, Guyana's investment promotion and liaison agency, which has been working to expand investments in Guyana's Information and Communication Technology (ICT) sector and further diversify sources of economic growth. The award evaluation panel examined Qualfon and other companies based on:
-Jobs created and the skill level of those jobs
-Future projections for continued job growth
-Sustainability of the investment
-Social impact of the investment
-Corporate social responsibility and community involvement
"Qualfon is honored to be recognized for our long-term investments in Guyana and the Caribbean region, but it should be the government of Guyana, GO-Invest and the people of Guyana who should be receiving this award," said Brian Kearney, Vice President of Marketing at Qualfon. "They are the ones who have supported Qualfon from the start, back in 2005. They are easy to do business with, and together, we have improved the technology infrastructure and have established a new industry for Guyana. As a result, Qualfon has grown rapidly in Guyana and our highly tenured employees and local management make us the top-ranked services provider for our clients. It is their success and our strong partnership that has led Qualfon to invest in one of the world's largest call center campuses in Guyana, which will provide more than 6,000 additional jobs."
Qualfon's mission is to be the best BPO and to make people's lives better. "That mission starts with investing first in our people," said Kearney. "From the top levels of our organization, we focus on areas that are important to our people beyond just their job. It is important that they have good pay, an excellent work environment, career advancement opportunities, and good management, but our people also care about their families and friends, their faith, their health, and their communities. This is why Qualfon has employee programs including food subsidies for their families, free medical clinics and medicine, interfaith chapels and chaplains in our centers and support for their volunteering efforts in the community. We not only want to make their lives better, but we know that in turn they will make our customers' lives better, their family and friends' lives better, and their communities better."
"Qualfon is one of the few companies whose resilience has been evidenced and whose commitment to the growth of our local economies must be applauded," said Chris McNair, Manager for Innovation and Competitiveness for the Caribbean Export Development Agency. "Qualfon should be heralded as a role model, and their business practices should serve as demonstration projects or success stories for other investors in the Caribbean region. We are honored that Qualfon is the first foreign investor ever to receive this award from our organization."
About CAIPA
pf_caipalogo_psp_smThe Caribbean Association of Investment Promotion Agencies (CAIPA) is an umbrella organization of investment promotion agencies in CARIFORUM as well as Curacao, the Cayman Islands, Montserrat and the Turks and Caicos Islands. The Association is dedicated to the strengthening of its members and the promotion of the region as an ideal location for investment. Caribbean Export serves as the Secretariat for CAIPA. http://www.caipainvest.org
About Caribbean Export
Caribbean Export Development Agency logoThe Caribbean Export Development Agency is the only regional trade and investment promotion agency in then African, Caribbean and Pacific group. It serves the 15 countries of CARIFORUM by promoting trade, export development and investment within the region, and also between the region and the rest of the world. http://www.carib-export.com
About Qualfon
Qualfon has a strong track record of customer service and back-office processing growth with experienced business processing outsourcing (BPO) leadership. We have been serving our BPO clients since our founding in 1996, and today, we are 10,200 employees serving an international base of clients. Qualfon operates in the Philippines, Guyana, Mexico, Costa Rica, the United States, and China. Our mission is "Be the Best BPO. Make People's Lives Better." Qualfon invests in the well-being of our people who, in return, are taking better care of customers, clients, and our communities. Our employee tenure is twice the industry average, which enables us to offer highly skilled and highly engaged people that provide a better customer experience. In addition, our lower employee attrition and strategic locations enable us to provide our services at a lower cost. http://www.qualfon.com