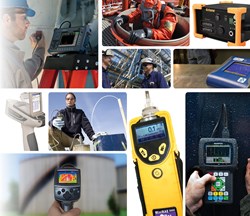 'Our philosophy is: never say no to an order,' Roger Pinheiro, Co-Founder and President of Pine.
Windsor, NJ (PRWEB) December 18, 2013
Over the past year Pine has committed a significant investment in its equipment, and to its customers.
What does it take to be the rental leader to the Environmental Monitoring, Non-Destructive Testing, CEMs and Specialty Gas industries? It requires equipment, and lots of it. In 2013 alone Pine has spent over $8M bringing new and more advance equipment into their fleet. Not a day goes by where something new isn't being added to Pine's already impressive inventory of monitors, analyzers and test instruments. Whether an older piece of gear is being retired, new technology is replacing obsolete models or the pool of existing favorites is being expanded, Pine's fleet is always on the move, right into the hand of customers. "If we need it we buy it," states Angelo Pinheiro, Pine's Co-Founder and CEO. "Anyone can say that they are the leader in the instrument rental field, but we are actually willing to put our money where our mouth is." "Our philosophy is: never say no to an order," adds Roger Pinheiro, Co-Founder and President of Pine. "Customers know that they can call us and we'll get them what they need. The only way to become that unconditional resource is to constantly stay ahead of our own inventory."
Pine not only invests heavily in its equipment, but also in its employees. From the factory trained, and often times field trained, technicians who perform the instrument's daily maintenance and calibration, to the branch managers and sales staff who many themselves have experience as engineers, scientists and project managers. "Our staff has years of experience working in the industry and can work alongside of our customers to provide equipment training and selection for both application and operation of equipment," say Brian Newgent, Pine's National Sales Manager.
Pine has also invested a great deal of time into developing the process for getting gear into the hands of customers. "When a company moves as much equipment as we do, strict quality control guidelines are a must," states Tim Phaneuf, Pine's Quality Control Manager. "We want customers to not only rely on us for having the equipment they need when they need it, but having the confidence that when it arrives at their job site it will be in optimal working order."
So will 2014 rival Pine's 2013 $8M investment in equipment? Well, no one has a crystal ball, but one thing is for certain: Pine will continue to uphold its commitment to the customer of supplying the demand for top quality, state-of-the-art equipment.
About Pine Environmental Services LLC
Pine Environmental Services LLC ("Pine") is the largest independent provider of Environmental Test and Measurement (T&M), Non-Destructive Testing, Remote Visual Inspection, and CEMs equipment solutions in North America. Headquartered in Windsor, NJ, Pine Environmental Services LLC has an 18 years track record of serving as a critical link in the supply chain connecting environmental consulting firms, construction companies, engineering firms, the oil and gas industry, power generation and production plants with the industry's leading equipment manufacturers. Pine provides a unique "one-stop" rental, sales and services solution for customers' complete project and equipment needs, and serves more than 2,500 customers throughout North America. For more information, visit http://www.pine-environmental.com or call toll free 1-800-301-9663.
Media Contact:
Angelo and Roger Pinheiro
Pine Environmental Services LLC
Windsor Industrial Park
92 North Main Street, Bldg 20
Windsor, NJ 08561
Toll-free: 800-301-9663
Local: 609-371-9663
Fax: 609-371-1663
E-mail: pine-nj(at)pine-environmental(dot)com
# # #
If you would like more information about this topic, please contact Roger Pinheiro/Angelo Pinheiro at 609-371-9663 or email at rpinheiro(at)pine-environmental(dot)com or apinheiro(at)pine-environmental(dot)com.