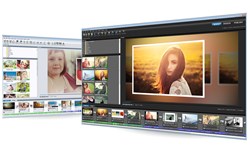 ProShow 6's new creative features seamlessly blend photos, videos and music together in a way no other program can.
Austin, TX (PRWEB) December 16, 2013
Photodex today announced version 6 of its award-winning ProShow Gold and ProShow Producer products. ProShow is an easy-to-use software application for creating photo, video and audio slideshows. Used by consumers and professionals, ProShow offers a wide-array of special effects and built-in tools for making dazzling video slideshows for any screen.
New in ProShow 6 is a suite of advanced creative tools that give users more control over the look and sound of their slideshows. Music and video clips can be blended to perfection with new advanced audio controls. Text and photo captions get an overhaul with new OTF (open type font) support, caption motion effects and text layers. All these updates give users more creative freedom and control over their slideshows than ever before.
Another key feature in ProShow 6 is the ProShow Remote app for iOS. Free for all ProShow 6 users, the app provides the quickest way to export a slideshow to an iPhone or iPad over Wi-Fi. Users can also remotely control live show playback on their computer and import photos and videos from their camera roll to a new slideshow on their computer, providing a wireless bridge from device to desktop.
ProShow 6 offers hundreds of new features and enhancements, including:
3rd Party Photo and Video Importing:
Import photos and videos directly from Facebook, Instagram, Zenfolio, Picasa and Zenfolio, directly into a new slideshow.
Audio Control Points:
Audio control points allow users to control soundtrack volume levels during specific parts of a show (e.g. during video clips, voiceovers, dramatic scenes, etc).
Text Layers:
ProShow Producer 6 offers users the ability to convert any caption into a Text Layer to apply slick effects like 3D tilt motion and blur to captions.
Advanced Captions:
New OTF font support, caption motion effects and time-saving features make captions look better than ever. ProShow Gold 6 gains tons of new caption tools, including caption rotation, caption motion effects, and more.
ProShow Remote App:
Free companion app for ProShow 6 allows users to instantly publish ProShow slideshows directly to an iOS device and control live show playback.
100's of New, Built-in Effects:
ProShow 6 offers a dazzling array of new effect options for titles, captions, photos and videos, including new collage styles + full length, zero motion and text layer effects. New themes, menus and show templates round-out the impressive list of new, built-in effects.
"Many people have their digital content scattered across a number of different sites, services and devices," said Paul Schmidt, president and founder of Photodex Corporation. "With ProShow 6, we were able to bring all those mediums together and give our customers a simple way to share their memories in a unique and impactful way, " Schmidt said. "ProShow 6's new creative features seamlessly blend photos, videos and music together in a way no other program can."
Pricing and Availability:
ProShow 6 is available now for $69.95 (ProShow Gold) and $249.95 (ProShow Producer) from http://www.photodex.com or by calling 1-800-37-PHOTO (1-800-377-4686). The new ProShow Remote app is available free from the Apple App Store.