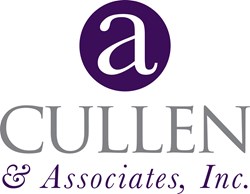 ...we were able to identify a series of both macro and micro trends occurring in Smart Grid hiring practices.
Boca Raton, FL (PRWEB) December 16, 2013
A. Cullen & Associates, Inc., in partnership with Zpryme Smart Grid Insights, released an infographic today outlining several noteworthy trends identified during a comparative analysis of their 2012 and 2013 research studies on Smart Grid hiring trends.
Available for immediate download, this insightful infographic outlines the following key movements in hiring-related practices:
Education requirements are increasing:

50% more hiring managers now require a Master's Degree for inexperienced hires (those without work experience). 24% more hiring managers require the same for an experienced hire.
Hiring bonuses are on the rise:
Average bonuses for inexperienced hires have increased 47%. While bonuses for experienced candidates have only increased 18%, 59% more hiring managers are leveraging bonuses to attract top experienced talent.
Additional data points include:
New desired skill sets for both inexperienced and experienced hires
Average hiring activity
Recruiting challenges facing the Smart Grid community
"Leveraging the baseline data we collected in 2012, we were able to identify a series of both macro and micro trends occurring in Smart Grid hiring practices," stated Heather Anusbigian, CMO of A. Cullen & Associates. "This infographic outlines some of the most dramatic changes, and serves as a preview to the release of our comprehensive findings later this month. This data offers Smart Grid human resources professionals invaluable insight into trends worth evaluating as they plan their future human capital strategies."
"Our 2013 Smart Grid Hiring Trends research study is the most comprehensive analysis of human resources issues for this market," commented Jason Rodriguez, CEO of Zpryme. "Our full report will offer an in-depth analysis of every aspect of Smart Grid hiring, including recruiting, training and retaining Smart Grid employees. Side-by-side comparisons of 2012 and 2013 data will highlight emerging trends in almost every category."
Methodology:
The 2013 Smart Grid Hiring Trends study was conducted by surveying 115 Smart Grid hiring managers and executives throughout the months of May-August in 2013. Only one response per company was allowed for the study. Only U.S.-based executives and managers who played a role in making hiring decisions for Smart Grid-related roles at their respective companies were invited to respond to the survey.
About A. Cullen & Associates, Inc.
A. Cullen & Associates is a niche recruiting and consulting firm offering a comprehensive suite of human resources solutions to the Smart Grid, commodities and energy industries. Backed by nearly 20 years of industry experience, A. Cullen & Associates has a track record of building profitable teams in these niche sectors. Armed with a keen understanding of legislative and regulatory change, industry business model evolution and human capital trends, A. Cullen & Associates helps clients continually stay one step ahead of the competition. For more information, visit http://www.acullen.com.
About Zpryme Smart Grid Insights Practice:
Austin-based Zpryme is a research-based firm with services focused on the energy industry. Based on the creative direction of our associates, Zpryme produces influential research, targeted branding, and meaningful thought leadership events such as ETS that challenge the status quo. To learn more about Zpryme visit: http://www.zpryme.com.