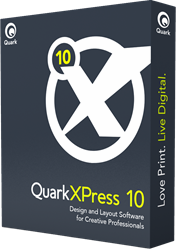 Denver, CO (PRWEB) December 17, 2013
Quark announced today the availability of QuarkXPress® 10.0.2, a new update to version 10. The update is free to existing QuarkXPress 10 users through Quark Update and is also available to download.
QuarkXPress 10.0.2 addresses performance issues reported by users and is the first version of QuarkXPress 10 to beat QuarkXPress 9 in many performance categories.* In addition to major performance, quality and stability improvements, the update offers new functionality.
-- For Mac OS X Users: QuarkXPress 10.0.2 now supports Spotlight and Quick Look so documents can be searched and previewed.
-- For App Studio Users: QuarkXPress 10.0.2 adds a new enrichment – 360° Images – that allows images to rotate completely within an app. The update also optimizes upload speed to my.appstudio.net and uses scalable vector graphics (SVG) for boxes in order to decrease issue file sizes and dynamically adapt to display resolutions.
Ramesh Yella, QuarkXPress Product Manager, said, "The introduction of the new Xenon Graphics Engine in version 10 was a big step forward in terms of quality image rendering on Retina and non-Retina displays. There is a lot more to come from the new graphics engine and we are already starting to see multiple areas where not only the quality is ahead of previous versions but so is the performance."
The 10.0.2 update is free to existing QuarkXPress 10 users through Quark Update and is available to download.
To learn more about QuarkXPress 10, please visit http://www.quark.com/10.
*An exception is panning/scrolling, which will be further improved in a subsequent update in the New Year.
About Quark Software Inc.
Quark's software enables organizations of all sizes to meet customer demand for engaging, relevant communications when, where, and how they want them. Our cloud and on-premise solutions combine the power of XML with flexible layout and design to automate the delivery of customer communications to print, Web, and interactive experiences on the latest digital devices. Financial services firms, manufacturers, and governments around the world rely on Quark solutions to elevate customer communications to new levels, reduce time to market, and lower costs.
Quark, QuarkXPress and the Quark logo are trademarks or registered trademarks of Quark Software Inc. and its affiliates in the U.S. and/or other countries. All other marks are the property of their respective owners.