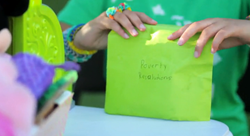 (PRWEB) December 18, 2013
The power of children is undeniable, especially when they are given the chance to show their full potential. Three children, all inspired by a school presentation decided to raise money to go towards something greater than themselves.
After hearing a presentation about poverty at their schools, three little girls were forever changed. They decided that something needed to be done about the poverty in Haiti, and that they wanted to help. The confidence of these girls and their lack of hesitation are astounding for elementary-aged children.
Sisters Madison and Emma, ages ten and seven, went home and began making potholders, bracelets, and lemonade. Another little girl named Grace, age six, made headbands. These girls ended up selling all of their items. By asking friends and family members and by having neighborhood yard sales, these three girls raised over $130.00 to help those in Haiti. As they say in their video, "that's enough to send one child to school in Haiti."
They gave the money raised to Poverty Resolutions and through the help of the organization sent a little girl named Majien, who is eight years old, to school in Haiti. This is what kids helping kids looks like. When children know and believe that they are capable of something powerful and life changing, they take the responsibility seriously.
These girls knew that something needed to be done, and because of their action another little girl in Haiti receiving an education. This little Haitian girl will now have the chance to go to school, which she has never done before. Majien will also be given the chance to begin pursuing her dream to become a doctor. Check out the YouTube video of the girls raising money for Haiti here.
Poverty Resolutions is a 501(c)(3) non-profit organization dedicated to the eradication of poverty around the world. To learn more, visit: http://www.povertyresolutions.org.