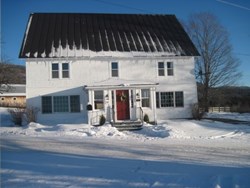 Serious writers crave what we offer: uninterrupted solitude and freedom from most daily chores and distractions.
Rochester, VT (PRWEB) December 17, 2013
When Words Count writing retreat is sponsoring its second annual Holiday Sweepstakes and will award up to 150 Grand Prize vacation packages to writers.
Winners will all get the same Christmas present: 4 days and 3 nights of free Premium room accommodations at the writer's retreat, which is located in a picturesque hollow in the heart of Vermont's Green Mountains. No purchase is necessary to enter, and the prizes have a $429 retail value. They are good for one visit, which must be booked between January 3rd and May 13th, 2014. Each winner also is permitted to bring one guest.
Authors will have until 3 a.m. EST (or Midnight PST) on Monday, December 24th, to enter the contest.
"Last year's winners said they loved waking up Christmas morning to the possibility of winning a big prize," Steve Eisner, the retreat's CEO, says. "We met some wonderful, talented people as a result, and they have enriched our ever-expanding community of writers."
When Words Count Retreat will publish its list of Grand Prize winners Christmas Day, through a public post on its Facebook page and will notify individual winners through private phone calls and emails.
Eisner says he expects authors will be eager to enter the sweepstakes -- and not merely because of the lure of a sweet deal. "Serious writers crave what this retreat offers: uninterrupted solitude and freedom from most daily chores and distractions. That's increasingly rare in today's world."
Since the retreat opened, in October 2012, guests have come from as far away as Florida, Iowa, Nevada, Colorado, Canada and Minnesota to try it out. "Our guests find life on our 16.5 acres and the surrounding hollows incredibly liberating and highly conducive to writing," Eisner says.
Guests describe the writing retreat and its surroundings in glowing terms, calling it everything from "a literary slice of heaven!" to "the quietest, most peaceful place I have ever been in my life!"
Former guests also rave about the retreat's meal service (not part of the prize offer), a necessity in a setting located more than five miles from the nearest restaurant. The retreat provides a daily meal package, for $55 per person, that includes a country breakfast, a farm lunch, cocktail hour hors d'oeuvres, coffee and tea service, and a four-course gourmet dinner. All the food is locally sourced, and artfully prepared, by Chef Paul Krcmar.
Anyone 18 years of age or older, who has published or is currently writing a book and who lives in the United States or Canada, may enter the When Words Count Retreat Holiday Sweepstakes simply by clicking here. (Proof of authorship is required.)
About the company:
When Words Count Retreat, in Rochester, Vermont, is a writer's retreat located at Mountain View Farms, a former working farm that served, for decades, as a successful country inn. Authors Steve Eisner, the retreat's CEO, and Jon Reisfeld, its Sr. VP, provide extensive 2-on-1 author coaching services and run an innovative, advanced writer's workshop that helps authors rapidly develop their book concepts and manuscripts for submission to agents and publishers. The retreat also provides guests with a new channel to traditional publishing through a twice-a-year, by-invitation-only, juried author-book competition, called, Pitch Week.