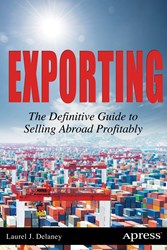 "With so much global buying power outside U.S. borders, exporting is no longer an option. It is an absolute must for business survival in the 21st century." — Laurel Delaney
New York, NY (PRWEB) December 17, 2013
Laurel Delaney, founder and president of management consultancy GlobeTrade.com, believes that selling globally should be easy for any company to pursue, regardless of size. She proves it in her book, "Exporting: The Definitive Guide to Selling Abroad Profitably"—published by Apress Media. "Exporting" is a comprehensive yet easy-to-follow primer for those who want to enter the international marketplace.
Only a small percentage of U.S. businesses currently export goods and services, while the rest are daunted by the prospect of doing so. Typically, exporting begins with unsolicited inquiries from international customers via email, websites, blogs, social media, or the telephone. Most business owners, however, do not know how to service these inquiries. They wonder, "What's the best way to ship goods? Do I need a license? Should I sell through wholesalers in specific countries or directly to consumers? How will I get paid?" Out of fear of the unknown, many entrepreneurs set global sales potential aside and remain within the comfortable confines of their current marketplace. "With so much global buying power outside U.S. borders, exporting is no longer an option. It is an absolute must for business survival in the 21st century," Delaney says.
The author demystifies the exporting process by laying out simple steps for each stage: from conducting market research and navigating trade legislation to using social media for marketing and shipping goods successfully. Promising to be the first and last word on an overlooked but vital component of business growth, "Exporting" is an essential resource for entrepreneurs and business owners. It is recommended reading for business school students and faculty who want to explore the next business frontier today.
For more information on "Exporting: The Definitive Guide to Selling Abroad Profitably," please visit http://www.apress.com/9781430257912.

ISBN: 978-1-4302-5791-2
552 pages
User Level: Beginner to Advanced
Publication Date: December 5, 2013
Available eBook Formats: EPUB, MOBI, PDF
Print Book Price: $34.99
eBook Price: $24.99
About the Author
Laurel J. Delaney, M.B.A., is founder and president of Chicago-based GlobeTrade.com, a management consulting company that helps entrepreneurs and small businesses go global. She is the creator of The Global Small Business Blog, which is ranked No. 1 in the world for entrepreneurs and small businesses interested in going global, and Women Entrepreneurs GROW Global. She serves as the About.com Import & Export Guide, is a charter member and a board member by appointment of the World Entrepreneurship Forum, and is a member of the International Council for Small Business.
About Apress Media
With more than 1,500 books in print and e-formats, Apress is the authoritative source for IT professionals, software developers, and business leaders all over the world. Apress provides high-quality, no-fluff content that helps serious technology professionals build a comprehensive pathway to career success. Since 2007, Apress has been part of Springer Science+Business Media, one of the world's leading scientific, technical, and medical publishing houses, enabling global distribution of Apress publications. For more information, please visit http://www.apress.com.