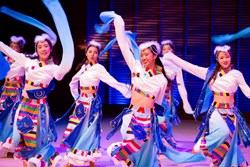 wonderful international food sold by non-profit organizations
Aliso Viejo, CA (PRWEB) December 20, 2013
Registration is now open for non-profit organizations ($35 for a table), businesses, restaurants, artists or crafters ($125 for a table), and volunteer performing groups that would like to participate in the 13th Annual International Festival to be held on Saturday, May 3, 2014 from 10:30 am to 5:00 pm. Last year, 6,500 people attended the festival, which featured over 250 exhibitors and 900 performers on three stages. Volunteer signups are also open and interested groups may contact the Festival at info(at)soka(dot)edu. Registration forms and maps are available at http://www.soka.edu/festival. For more information: info(at)soka(dot)edu or 949 480-4081.
This year, the International Festival will again feature wonderful international food sold by non-profit organizations, children's games, the "California Fibers" art exhibition featuring the work of 22 artists, the much anticipated SUA student ceramic art sale, demonstrations and workshops. Admission is free. Parking on campus is $10 cash only. The 103-acre Soka University campus is located off of Wood Canyon Drive one mile south of Pacific Park Drive in Aliso Viejo.
Soka University, a private, non-profit, four-year liberal arts college and graduate program. SUA offers a 9:1 student/faculty ratio and an average class size of 12. The campus was rated in the Top 50 National Liberal Arts Colleges in US News and World Report's "Best Colleges 2014." All undergraduate students participate in a semester of study abroad during their junior year which is included in the tuition. Free tuition is available to eligible admitted students whose annual earned family income is $60,000 or less. The university is open to top students of all nationalities and beliefs and was founded upon the Buddhist principles of peace, human rights and the sanctity of life. About 60% of SUA's students come from the US and 40% have come from 40 other countries. For more information: http://www.soka.edu.