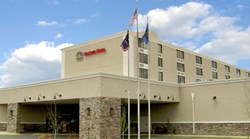 "We are constantly focused at changing the offers so that we can keep up with the latest demands."
Casper, WY (PRWEB) December 20, 2013
Greenbee Parking, a young and rising parking service, has just announced a series of new deals on their Casper Wyoming airport parking rates. Now all their customers using the Casper (CPR) airport can expect to save anything from 30-75% on their airport parking expenses. There are of course incredible deals and options for all long term bookings, but the latest web upgrades also show great options for those who are booking a parking space for a shorter duration. The rising popularity of the Greenbee service is largely due to their out of the box deals which lead to these savings as well as the incredible ease of operations that makes the airport parking experience a breeze. For travelers there is now the option of great savings in their travel budgets and also options of very secure parking every time.
"We are constantly focused at changing the offers so that we can keep up with the latest demands," said Christine Cooper – Marketing Coordinator, Greenbee Parking. "It is our constant endeavor to change and innovate so that our offers can meet the latest travel demands and ensure maximum traveler comfort at the best Casper Wyoming airport parking rates."
Casper–Natrona County International Airport Parking Information
The Casper–Natrona County International Airport is a small but busy airport located close to the central business district of Casper, a city in Natrona County, Wyoming. The regular passenger service is offered by SkyWest Airlines for Delta Air Lines, United Airlines, and Allegiant Air. The airport is also known for the occasional gambler or casino flights to Nevada which quite adds to its interesting history. The airport is seeing a steady increase in business as well as Natrona's population, which has led to major efforts to renovate the premises and improve on the existing amenities and services. One of the major areas of concern is parking, which has been given special focus and has paved the way for private entities like Greenbee Parking to come into the scene.
Greenbee's services are a perfect complemented to the existing facilities as they offer multiple and innovative parking options that goes above and beyond the current options. In their regular web upgrades the young company has shown a steady and reliable pattern of offering services which match all kinds of parking needs and budgets. Travelers have the option of long and short term bookings, parking at the airport or away from it and all at very affordable prices.
The Greenbee Airport Parking Solution
Greenbeeparking.com is the connection between consumers and parking vacancies in close proximity to major airports and seaports. The parking spaces are very affordable because the company has negotiated discounted rates with major hotel chains for the parking spaces that are not currently occupied. Here's how it works.
Greenbee Parking puts the available inventory of parking spaces on their website to be reserved by business and leisure travelers looking for cheap airport parking. This alternative method for finding parking equates to significant savings for the traveler. You can learn more about their offers from (http://www.youtube.com/watch?v=WWLybHNYjYQ) or via the web at (http://www.greenbeeparking.com).
About Greenbee Parking
Greenbee Parking is the nation's most innovative long term parking company, with a new way of making long term parking affordable. The company is rapidly adding new airports to its network.