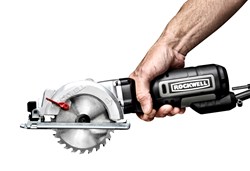 Charlotte, NC (PRWEB) December 17, 2013
Rockwell's new Compact Circular Saw with 4 ½ " blade cuts 2x4's and is half the weight of conventional 7 ¼" circular saws. At 5 lbs., the compact circular saw with slim, inline grip design provides great comfort, balance and control. The saw is easy to transport and maneuver, especially overhead. It's a lighter alternative, minus the bulk and offers full cutting capacity.
The saw's 4 ½", thin-kerf blade is less than half the thickness of larger 7 ¼" circular saw blades. The Rockwell Compact Circular Saw (RK3441K, $89.99) is available at http://www.rockwelltools.com and various online and big box retailers. The compact saw is covered by Rockwell's 3-year warranty.
Rockwell's complete line of oscillating tools and accessories fit every budget. Projects needing sanding, cutting, rasping, and more are just some of the jobs Sonicrafter® tools and accessories can tackle to save time, effort and money.
Rockwell Sonicrafters feature the industry's first Universal Fit™ System that differentiates it from other brands. Sonicrafter tool accessories fit all major manufacturers' tools tightly and securely without adapters.
The Rockwell Sonicrafter X2 feature Hyperlock™ provides one ton of clamping force to prevent blade slippage. The Rockwell Sonicrafter X2 (RK5140K, $149) is the most powerful and fastest cutting tool in the line. Its 3.0 amp motor oscillates at 11,000-20,000 (OPM) with a 3.2 degree angle. The 3.30 lb. tool has a variable speed dial and constant speed control, which electronically maintains speed-of-cut under load. It comes with a hard shell tool case for storage.
Rockwell Sonicrafter accessories make great stocking stuffers. For example, the triangular-shaped sanding pads and sanding sheets are ideal for detail sanding in corners and tight spaces. Other Sonicrafter accessories cut through wood, thin sheet metal and fiber glass, copper pipe, PVC, tubing and other materials.
The Rockwell Sonicrafter multi-tools and Universal fit accessories are available at http://www.rockwelltools.com and other websites, Menards and Lowe's, and regional hardware and home centers nationwide.
Consider Rockwell's new 16V MaxLithium Drill-Driver. When tested against the leading major manufacturer's 12V tools, its 302 in. lbs. of torque matched or exceeded all brands.
Feature-packed, the Rockwell 16V Drill/Driver has a 3/8 in. keyless, single-sleeve chuck and a two-speed (0-400/0-1500) gearbox. The 2.75 lb. drill/driver also has an auto spindle lock, a 16-torque-setting clutch, forward/reverse button, and an LED. The tool's drilling capacity is 1 in. in wood and 3/8 in. in steel.
Rockwell cordless power tools are eligible for the Batteries for Life program, once the tool is registered. That's a 40 to 70 percent savings over the life of the tool, because battery replacement is expensive.
The Rockwell 16V Drill/Driver (RK2600K2, $139.99) is available through http://www.rockwelltools.com, Menards, Amazon, and other online websites, as well as regional hardware and home centers nationwide.
No shop is complete without a work station, and the Rockwell JawHorse® is the ideal choice. The compact JawHorse (RK9003, $149.99) is a portable, three-legged workstation that holds work pieces of various configurations up to 37 in. wide. It has a clamping force up to one metric ton (2,200 lbs), and handles loads up to 600 lbs. This jobsite marvel takes the place of workbenches, stands, saw horses, vices and clamps. When not in use, it folds up to ride in the bed of a pick-up or to be stored in a garage corner.
The Rockwell JawHorse (RK9003, $149.99) is available at http://www.rockwelltools.com and other websites; Menards and Lowe's, as well as regional hardware and home centers nationwide.
# # #