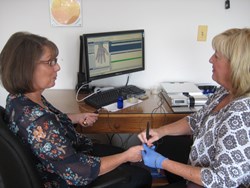 Most people do not know that gluten can cause serious health problems and that they may be at risk even if they do not have celiac disease. Medical studies estimate gluten intolerance affects up to one-third of the American population.
Orland Park, Illinois (PRWEB) December 17, 2013
"Most people do not know that gluten can cause serious health problems and that they may be at risk even if they do not have celiac disease, an autoimmune condition and chronic disease of the digestive system the prevents absorption of nutrients from food," began Barbara Griffin, NMD, CNC, Certified Gluten Practitioner and owner of Vital Health, Inc.
Medical studies estimate that milder forms Celiac Disease know as gluten intolerance or sensitivity affect up to one-third of the American population. (1) Many doctors over look the fact that headaches, joint pain, rashes and hormone based diseases are all conditions that are greatly affected by diet.
Dr. Griffin shared, "There are over 350 documented symptoms of gluten intolerance and their manifestation varies greatly from person to person. One person may have unexplained weight loss or weight gain and another have fatigue and brain fog as their presenting symptom. In the end, some today's most common health conditions can be connected to a gluten intolerance."
Dr. Griffin identifies some of the most common symptoms of gluten intolerance:
1. Digestive issues such as gas, bloating, nausea, abdomen cramping, and irritable bowel syndrome (IBS). Constipation is most prevalent digestive symptom in children.
2. Pain, swelling or inflammation in the muscles or joints.
3. Headaches and migraines.
4. Anemia or hypoglycemia
5. Chronic fatigue syndrome or fibromyalgia
6. Emotional issues such as anxiety, depression, and Attention Deficit Disorder
7. Skin problems and rashes
8. Hormone based diseases
9. Any autoimmune disease
10. Teeth and gum issues
"Going on an elimination diet is the best way to determine if you are suffering from an unidentified gluten intolerance. It is best to remove all forms of gluten from your diet for 30 days. The gluten-free diet means total avoidance of all wheat, rye, and barley and products made from them. Be careful to avoid hidden sources of glutens, such as vegetable protein and malt, modified food starches among other food items. A good source to refer to for a complete list of foods that contain gluten along with hidden sources is http://www.celiac.com," remarked Dr. Griffin.
The good news is that today there is huge selection of gluten-free foods that are available are local health food stores. In addition, my restaurants now have gluten-free menus or are willing to accommodate a gluten-free allergy.
Following a gluten-free diet is not a temporary measure to eliminate a condition, it is life long lifestyle change. Eliminating gluten doesn't cause the body to become less sensitive to it, however, the condition will improve. The condition will return as soon as gluten is reintroduced to the diet.
Below are three easy tips to follow when adhering to a gluten-free diet:
1. Read the labels. Wheat is often disguised and there are a number of other ways it can be listed. Other ways wheat flour can be listed include: semolina, farina, and spelt, Additionally, gluten may be present in a number of other foods that are typically not wheat derived such as sour cream, ice creams, soups and sauces, potato chips, frozen meals, body lotions, toothpaste and even nail polish.
2. Invest in a Gluten Free Shopping Guide. Take the guesswork out if a food is gluten-free by investing in a gluten-free shopping guide. Triumph Dining and several other recourses are available on Amazon that makes going grocery shopping hassle-free. Many of these guides also have multiple food allergy editions such as gluten/diary/nut/ and soy free. Cell phone apps are available.
3. Prepare your own gluten-free bakery items and meals. Just because you are adhering to a gluten-free diet does not mean you have to give up cooking. Investing in a prepared blend of gluten-free baking flour is a cost effective and sure way to make your favorite bakery items gluten-fee. With all of the gluten-free cooking products that are available it is easy to make almost any dish gluten-free.
About Vital Health, Inc.:
At Vital Health, Inc. Dr. Griffin integrates a whole body approach with the intention of facilitating wellbeing and optimal health amongst her clients. Dr. Griffin's specialties include: traditional naturopathy, nutrition, EAV Meridian Stress Assessment, Food Sensitivity Screening, Environmental Screenings, Iridology, SKASYS, Live Blood Cell Analysis as well as established integrative therapies such as Neuroemotional Therapy, Neuromodulation Technique, Cold Laser and clinician for Spectracell Laboratories, Inc. Vital Health, Inc. 9031 W. 151st Street, Suite 210, Orland Park, IL 60462, (708) 226-1131, http://www.vitalhealth.org.
Sources:
(1) Living Well With Autoimmune Disease, by Mary J. Shomon