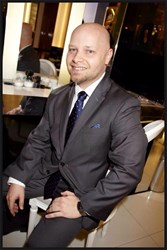 New York, NY (PRWEB) December 17, 2013
Stephen Marinaro "TheSalonGuy", a 20 year beauty industry veteran, media host and producer, is hosting an online event that will feature beauty industry professionals that are military veterans.
"Hair Ops" will feature Joshua McMichen, Carl Maiorino, Brian Whitfield and Albie Mulcahy, military veterans who have launched successful careers in the beauty industry. The speakers will share how their experiences in the military provided the motivation and determination to achieve their goals.
The free online event will be hosted live on FashionMingle.net and on Spreecast. Featured participants will share how their time serving our country has provided them with the courage, training and dedication to pursue their goals in the beauty industry.
Stephen Marinaro will host the event and share his experiences in public safety and law enforcement that have helped him reach his goals and fulfill his dreams. The webcast will be held on Sunday, December 22, 2013, at 3:30 PST and some participants will have the opportunity to interact with the speakers and a chance to be live on camera to share personal experiences.
About FashionMingle.net
FashionMingle.net is a PR platform for fashion entrepreneurs to share, discover, and mingle. The business directory and social network create a platform for fashion entrepreneurs to promote their services and grow their business. More information can be found at FashionMingle.net.