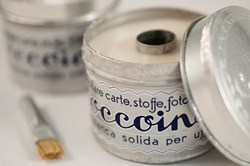 This item truly stood out as our clear winner this year.
London, UK (PRWEB UK) 18 December 2013
Bureau Direct have just announced the results of their annual Stationery Awards. The overall winner for 2013 is the Coccoina Glue, a natural adhesive paste made in Italy since the 1920's and a new addition to the Bureau Direct range this year. The second place award went to the Christmas Tape from Japanese company MT and the third place award went to a wooden box set of inks and glass dipping pen from French company Herbin.
The stationery awards were first run in 2012 and due to their success they are now becoming an annual pre-Christmas event. Products qualify for being shortlisted according to when they are added to the Bureau Direct product range. The votes are cast by members of the Bureau Direct team to find an overall winner. This year, for the first time, an award was opened to the public for customers to choose their own favourite product of the year. This award was made to the limited edition Neon Lamy Safari fountain pen, as voted for on the Bureau Direct Facebook page.
There is also an award made to most innovative product of the year, which was jointly awarded to the Neocritz Pencil Case – a Japanese invention that unzips and folds back into a temporary pen pot. The award was shared with the Punktum notebook from Germany, which has a unique customised cover that can be personalized to your own design.
The overall winner, the Coccoina glue paste was voted by 3 of the 7 'jury' members as their personal choice product of the year, and it perfectly encapsulates what Bureau Direct look for in their stationery. As well as being an exotic import, it is also a beautiful item to own. The packaging is worthy of a luxurious food item, and it comes with a miniature brush discretely hidden inside. The paste itself has a heady aroma of almonds.
Dominic Irons, Director of the business and head juror, says of the winner: "This item truly stood out as our clear winner this year. Originally sold in the shop about 15 years ago, we were so pleased when it became available to us again this year, and for us to be able to offer this gorgeous item online for the first time. As well as being the winner, we are also so pleased that it has been one of our best-sellers this Christmas proving that our customers have also appreciated us offering them such a stationery gem."