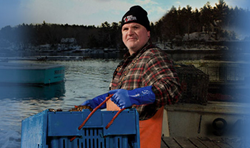 I wanted to share the real Maine experience—the one I grew up with. There was a good deal of competition, but I was convinced that my way was unique and I could start off slow and simple.
(PRWEB) December 19, 2013
Four years ago, Mark Murrell had no idea he would launch his seafood business, GetMaineLobster.com, from his laptop.
In nearly 20 years working as a self-taught media manager and internet marketing consultant, he had established himself as one of the most sought-after experts in his many fields, with multiple responsibilities for other established businesses and ambitious entrepreneurs, and working as much as 90 hours a week. He also worked on a contractual basis for a non-profit organization, traveling to the East Coast from Chicago for two weeks out of every month. Needless to say, he was itching for a change.
"I wouldn't say no, and I liked learning from each of the roles I had," the 41-year-old says. "But I found myself wondering almost every day, 'Imagine what you could do if you had your own business; if all of this work went toward something you built'."
He gradually weaned himself from his clients and, at the same time, decided to sell Maine lobster and seafood from his laptop computer. Having grown up in Maine, he had the connections, a little bit of capital, and the proverbial business smarts to launch from his home in Chicago.
"The concept was simple," Murrell says. He'd lived in Chicago long enough to know how hard it was to get good, fresh Maine seafood in a landlocked state and long dreamed of a start-up concept he describes as a quaint seafood market with a virtual storefront.
"I wanted to share the real Maine experience—the one I grew up with," he says. "There was a good deal of competition, but I was convinced that my way was unique and I could start off slow and simple."
One cluttered corner of his living room made way for his desk and computer where he tapped on the keyboard well into many nights creating the original understated GetMaineLobster.com storefront that consisted of rows and pages of everything Maine lobster and seafood.
On the backend, Murrell was working the phones, wheeling and dealing with lobstermen, seafood distributors and packing and shipping companies to form what he now likes to call a "seamless system of delivery from the docks to American's doorsteps." As the business unfolded, so too did Murrell's trajectory to the future, which better aligned his business with emerging markets and engaged consumers in original ways.
Murrell began reaping the benefits of his efforts soon after he launched, doubling his sales every quarter his first year of operation. As he worked to negotiate attractive pricing on his products, he found himself having to rapidly change or expand his course of communication to prospective and established customers as new market trends surfaced. Despite the growth, he saw a flaw in his approach.
"I realized that I needed to be able to do more than simply flex on a moment's notice when the market shifted or when new trends emerged," he says. "I had to become adept at creating trends to distinguish myself within the market and from my competition. Agility was key; but agility with social influence was even better."
By the end of the third year of operation, Murrell's company grew to seven employees and he had found a way to make a "small impact" on the way consumers within his target market thought about buying and eating Maine seafood. With minimal resources, he focused his attention on the things that mattered most to his customers: cost, health, convenience, and the environment—drawing the conclusion that those issues also mattered to prospective customers. It wasn't long after that when he launched a full-blown communication blitz, using every tool and method he could think of to enlighten his audience.
"There were a lot of people buying Maine lobster and seafood, but a lot more not buying it," he says. "I asked myself what was the block. There had to be a way to change some of the perceptions out there about the food I was selling and also educate people about the benefits of eating seafood that is harvested with sustainability in mind."
Armed with information, Murrell began to tackle that by developing content he could distribute in a variety of ways. He wasn't selling his products per se, rather answering questions he believed were most pressing in the minds of would-be buyers.
"The clarity I provide," he says, "breaks down some of the barriers preventing people from buying."
The company's brand identity strikes an interesting balance between online seafood delivery service and subject matter experts in the Maine lobster and seafood industry. The website juxtaposes purveyor wares with important, factual information about the health benefits of eating lobster and seafood, especially for Paleo fans, and the ease with which even the most inexperienced cooks can prepare it.
After receiving recognition from national media, a one-year partnership with Chase Bank as one of three businesses selected for its national advertising campaign, and glowing reviews from customers, food blogs, and other businesses, Murrell finds himself in that place of change once again.
"We, like many businesses, have reached yet another plateau, and it's time to break out some new innovation," he says. "That's truly the key to success in this business; maintain originality and staying on top of all of the issues that face the seafood industry."
About GetMaineLobster.com
GetMaineLobster.com, a division of Black Point Seafood and Black Point Gourmet, hand-selects the finest Maine lobster, seafood and beef products for convenient distribution throughout the United States. Their passion is to make fresh, quality seafood readily available to customers across the country, which is why they buy from only the most trusted, well-established suppliers to ensure that they receive the finest products available.
GetMaineLobster.com was selected out of the more than four million small American businesses served by Chase bank to represent its new Platinum Business Checking product for its 2013 national advertising campaign. To learn more about GetMaineLobster.com, call (866) 562-4817.