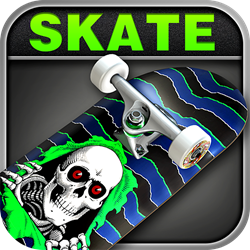 Exactly two years later, as technology evolves, the new devices really allowed us to push the limits further and come back with a better title in all aspects.
Gatineau, Qc (PRWEB) December 20, 2013
Ratrod Studio Inc. proudly announces the arrival of its latest skateboard title, Skateboard Party 2, on iOS, Android and Windows Phone. A sequel to the original Skateboard Party title that has been featured in Apple's iPhone 5 "Brilliant" TV commercial.
Skateboard Party 2 brings all the fun of skateboarding to your mobile device allowing you to ride in eight completely unique locations. Jump on your board, learn new moves and improve your skateboarding skills to land sick combos.
Play with your friends using the new online multiplayer mode or challenge skaters from all over the world using the online leaderboards.
Learn over 40 unique tricks and hundreds of combinations. Follow the tutorial to get started and progress as you go. Execute the craziest combos and trick sequences to rack up some impressive high scores, gain experience and make a name for yourself.
Select between nine characters and customize each of them to your preference. A massive collection of outfits, boards, trucks and wheels are available including items from iconic brands such as Powell Peralta, Bones, Bones Bearings, Golden Dragon, Hoopla and Tork Trucks.
The game soundtrack features music from Voice of Addiction, Sink Alaska, Beta, Hitplay!, Moovalya, We Outspoken and Melodic in Fusion. Players can also listen to songs from their own music library.
"The original Skateboard Party game is, without any doubt, one of the most popular skateboarding game on the mobile market. Exactly two years later, as technology evolves, the new devices really allowed us to push the limits further and come back with a better title in all aspects," says Ratrod Studio's President, Pat Toulouse.
Play the career mode to complete over 40 achievements while unlocking new items and locations. Gain experience to upgrade your favorite skater's attributes to perform better and achieve higher scores. Practice and improve your skateboarding skills without any constraints using the free skate mode.
Skateboard Party 2 is available on all popular mobile platforms including:

Skateboard Party 2 features:

Supports latest gen devices and optimized for HD displays
Online multiplayer mode to play against your friends online
Fully customizable control system
Over 40 unique tricks and create hundreds of combinations
Massive skateboard locations to ride including a trailer park, army base, shopping mall, ski resort, campus, funfair beach and a big open city
Customize your skater or board with tons of exclusive content
Record and share your skate session videos on YouTube, Facebook & Twitter
Game Center and Google Play achievements and online leaderboards
Universal version for phones and tablets
Supports MOGA and other MFi game controllers on iPhone and iPod touch
MOGA support for Android and Windows Phone devices
More details about Skateboard Party 2 can be found on the official website at http://skateparty2.com.
Trailer: http://ratrod.ca/sp2/trailer/
About Ratrod Studio Inc.
Ratrod Studio Inc. develops video games for mobile devices including iPhone, Android, Windows, handheld devices, game consoles and personal computers. With the mobile gaming space constantly expanding, Ratrod Studio has already reached over 45 million users for their games across all platforms.
(Website: http://www.ratrodstudio.com/ )