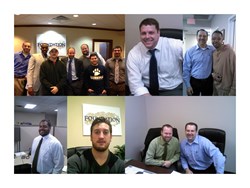 Did you know that half of the men in the United States will be diagnosed with cancer at some point in their lives? That's a statistic that cannot be ignored.
Atlanta, Georgia (PRWEB) December 18, 2013
Foundation Financial Group announced that as part of its Men's Health Initiative, FFG employees across the nation participated in the Movember and No Shave November movements. Both organizations offer people an opportunity to promote men's health and raise awareness for cancer through hair growth.
"Team FFG put forth personal effort to help create awareness for men's health issues, and I sincerely appreciate everyone who participated here in Raleigh and across the country," said FFG's Raleigh Event Coordinator, Stephen Le Gost.
The mission of Movember is to promote awareness for men's health, with emphasis on testicular and prostate cancer. Since its creation in 2003, Movember has inspired and recruited more than 3.9 million supporters worldwide. Mo Bros (male participants) register on the Movember website, shave their faces, and grow a Mo (mustache) throughout November. Mo Bros ask friends and family to donate to the cause.
While most employees participated individually or in pairs, participants from FFG's Savannah Regional Sales Center registered as The Financial Mustache Package for Movember. Social media sites like Facebook and Twitter were instrumental in fundraising efforts. Donations from friends, family, clients, and colleagues helped Foundation Financial Group make its Men's Health Initiative a success.
"I grow an awesome mustache to support the cause," said John Sanders, who lives in Dayton. "Did you know that half of the men in the United States will be diagnosed with cancer at some point in their lives? That's a statistic that cannot be ignored."
John Shelby, FFG's Atlanta event coordinator and a former Mo Bro, said he switched to growing a beard for No-Shave November because his mustache was not as attractive as he would like it to be. Shelby is relieved that there is more than one way to visually represent men's health. He feels encouraging routine checkups is important because men are less likely to visit the doctor regularly.
No-Shave November raises funds and awareness for people with cancer through participants who let their hair grow naturally during November. Instead of shaving or grooming hair, people donate the money typically spent on hair upkeep toward cancer prevention, education, and aid. Wild and free hair growth is a symbol of hope for the many cancer patients who lose their own hair while undergoing treatment.
"The first year I grew my beard out, one person called me 'Scruffy' for the entire month," said Jonathan Wilson, a Jacksonville participant. "Since I've been doing No Shave November for three years, now most people expect me to have a beard around this time. Getting the word out is important to me because my grandfather died from prostate cancer."
Employees from FFG locations in Florida, Georgia, Ohio, North Carolina, and New York supported Movember and No Shave November. Team FFG's participants served as living billboards for the cause, and their fundraising helped cancer patients. As the cold weather settles in, some team members are considering keeping their philanthropic facial hair for extra warmth during the winter.
About Foundation Financial Group
Foundation Financial Group is a multibillion dollar financial services corporation. FFG offers its customers Best in Class service through its Insurance, Retirement, and Mortgage Services. Named one of the fastest growing financial companies in the country by Inc. Magazine for the third year running, FFG has continued to grow its nationwide presence with over 100,000 new customers per year in 39 states. In addition to the value that Foundation Financial provides every customer, it is also dedicated to its communities and the people who live in them. Through a vast array of philanthropic endeavors, the company not only provides significant monetary donations but also fosters a workforce environment that encourages all team members to personally make a difference. Foundation Financial is committed to its strong focus on customer service and community investment as it continues to grow and compete with the largest financial institutions in the world.
Foundation Financial Group reviews all public relations inquiries. For additional information, interview and image requests, contact the Foundation Financial Group Public Relations Team.