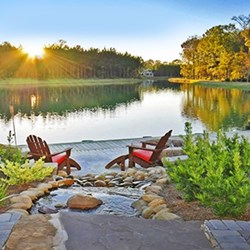 "We are thrilled that so many families have decided to call Hampton Lake home," said Pratt Reed, President of the community. "It is a reflection on our beautiful homes as well as the neighborhood's award winning amenities and active social calendar."
Bluffton, SC (PRWEB) December 18, 2013
As of December 15, the private community has 167 sales, 58 homes currently under construction and an additional 48 have been built during the year. Moreover, based on sale inquiries, Hampton Lake officials anticipate more sales before the end of the year. "We are thrilled that so many families have decided to call Hampton Lake home," said Pratt Reed, President of the community. "It is a reflection on our beautiful homes as well as the neighborhood's award-winning amenities and active social calendar."
This sales report is especially noteworthy because Hampton Lake, LLC, the development entity of the Hampton Lake community, reorganized its debt structure last spring. At that time, community officials promised it would be "business as usual." They lived up to that pledge and worked diligently during 2013 to not only safeguard its employees' jobs, but to also ensure a solid future for sellout of Hampton Lake. "When we reorganized our debt structure earlier this year, our two main goals were to take care of our employees and our residents, and to continue our efforts to build up and build out the community. We accomplished both of those objectives. We look forward to another successful year in 2014," said Mr. Reed.
Hampton Lake is a Reed Group community and is located off of Bluffton Parkway. Homesites are priced from the mid-$60s while waterfront homesites are priced from the low $120s. Home/homesite packages are priced from the high-$300 to $900+. For more information on Hampton Lake, go to http://www.hamptonlake.com.
About Hampton Lake
Construction on Hampton Lake began in 2006. Since that time, it has grown into a flourishing, family-friendly community complete with a 165-acre freshwater lake, pools, clubhouse, workout facility, spa, dog park and boating facility. In 2008 and 2009 respectively, it was named "Best Community Facility, 151 Homes and Over" and "Best Community, 151 Homes and Over" by the National Association of Homebuilders and Professional Builder Magazine.
About Reed Group
With more than 40 years in business, Reed Group is a diversified real estate company managing the planning, development, operation, marketing and sales of master planned communities and their amenities throughout the Hilton Head Island / Bluffton, South Carolina area. The company's five flagship communities – Colleton River, Belfair, Berkeley Hall, Hampton Hall and Hampton Lake – encompass more than 5,200 acres. The Reed Group's RG Materials and RG Realty were launched in 2013 to manage existing entities and expanding opportunities throughout the region.