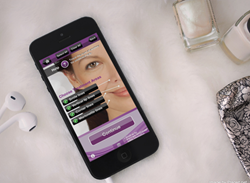 (PRWEB) December 19, 2013
Anyone who's been considering a JUVÉDERM treatment will want to read the latest post from BotoxJuvedermDoctor.com which covers the new JUVÉDERM® Treatment Visualizer app. The app from Allergan, the makers of JUVÉDERM®, promises to give users a glimpse of what they could expect if they were to undergo a treatment.
The review includes information on downloading the app, how to use the app and who stands to benefit the most from using it. What they found was that the JUVÉDERM® Treatment Visualizer app does provide interesting before and after comparisons, however it's not ideal for all users.
Treatment Areas Analyzed by the App
While the app hook is 'visualize how you would look with JUVÉDERM® XC' the BotoxJuvedermDoctor.com review revealed it is only set up for treatments around the mouth:

Smile lines
Vertical lip lines
Corner lines
Marionette lines
Those that are considering JUVÉDERM® treatments for lip and cheek enhancement will find that this app isn't equipped to provide such before and after comparisons. However, as noted in the review the app tools were very responsive, allowing the reviewer to select from the four mouth areas, upload images and even choose between three levels of correction without any issues. The app Visualize Now feature uses the same sliding technique found in the Before & After Gallery on the JUVÉDERM® website to reveal the before and after results.
While there were shortcomings in the treatment areas that can be compared, BotoxJuvedermDoctor.com found the free tool to be helpful in visualizing potential results for JUVÉDERM® when used around the mouth. Though it can't produce 100% accurate results the JUVÉDERM® Treatment Visualizer app is currently the best option for determining what a patient can expect after the procedure.
To learn more about the JUVÉDERM® Treatment Visualizer app, see photos and more, please visit: BotoxJuvedermDoctor.com
About Botox & Juvederm Doctor
Founder Dr. Muhammad Mirza established Botox & Juvederm Doctor in 2013 to meet the growing needs of patients in New York and New Jersey that are looking for a discreet, professional provider of Botox and Juvederm treatments. With a client-first focus, all services are designed to be as safe, convenient and affordable as possible.
Botox & Juvederm Doctor is a subsidiary of Allied Medical & Diagnostic Services LLC, creators of eVivite.com and LatisseDoctor.com.