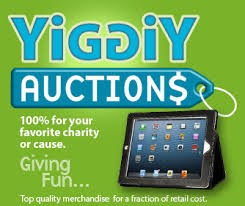 "A man's true wealth is the good he does in this world."— Muhammad (570 – 632 CE)
Bowling Green, KY (PRWEB) December 18, 2013
Yiggiy Auctions is holding a global online charity auction on behalf of Invisible Blessings, a charity-minded organization whose mission is to bring homes and other necessities to people in need. Invisible Blessings has volunteers on the ground in the Philippines. As soon as the auction finishes and all transactions have been completed, the funds are immediately transferred from Yiggiy to the Philippines where the volunteers then purchase the food, clothing and basic medical supplies and deliver them to those in need. The Invisible Blessings volunteers work for no pay and at great personal risk to help ensure that these people, who in most cases have yet to receive any help at all, get the help that they so desperately need.
The spokesperson for Invisible Blessings, Jennie Menn, had this to say about their current mission in the Philippines. "We normally help people in our own areas. It is a requirement of IB that we only use volunteers if at all possible. There has never been a situation where those volunteers would have to take any risk. When I asked for volunteers there from people we knew they gladly accepted. I had no idea I was actually putting these young mens lives at risk. These areas are littered with dead bodies and so these areas are teeming with disease. They also risk running into bandits who would happily take their lives for the aid items that they are carrying. If I had it to do over again I don't think I would have asked. But there is no going back now. We are fully committed to helping these victims of one of the greatest human tragedies in modern times."
Yiggiy Auctions are a great way to help raise money because they provide bargains to budget-minded shoppers. Bidders typically pay less than 10% of the retail price of the items due to the unique way that these global auctions are structured. People can bid on a wide variety of items like gift cards, iPads, cell phones, TVs and more for a fraction of their retail cost and at the same time help the typhoon victims who desperately need it.
The Yiggiy Auction will be held December 18 at 7:00 p.m. Eastern Standard Time. One hundred percent of the final bid price of the items will go toward the cause.
Registration for the auction is under way and anyone interested is urged to register today and obtain their entry tickets in advance of the bidding. Bidders can obtain tickets by making a donation to Invisible Blessings or another Yiggiy-sponsored charity including the American Red Cross and Toys for Tots. People can also earn entry tickets by taking surveys and filling out forms online.
Yiggiy Auctions is also actively seeking other good causes to support. Any non-profit or charity can apply to Yiggiy to host its next fundraising event. Individuals without formal 501C status may also apply.
"If your church needs a new roof, your school needs new basketball uniforms, your shelter needs bedding or your neighbor needs help paying for a surgery, Yiggiy can help," a Yiggiy spokesperson said. "We're looking for heroes whose hearts are full and their wallets empty. We want to make giving possible for everyone."
Yiggiy Auctions is the happiest place online. Where great deals, great deeds -- and great fun -- come together.
For more information on the Yiggiy and Invisible Blessings Auction please visit http://InvisibleBlessings.com