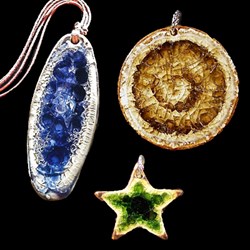 With my diverse and inventive line, you will find gifts for him or her, even if you never thought pottery was the answer. From the purely delightful to the highly functional, a purchase from Paloma Pottery brings the reassurance of a sound investment.
Ferndale, WA (PRWEB) December 18, 2013
A visit to PalomaPottery.com is a reminder of all the refreshing possibilities for quality gift-giving. Whether looking for young or old, online shoppers might be surprised and delighted by the full range of recycled glass gifts available. For a gift that is enduring and meaningful, this Paloma Pottery satisfies again and again. Founder Nicole Whitney has been at the head of the site for almost 14 years now, and the mark of endurance shines through both the product and the buying experience.
From now through the holiday season, Paloma Pottery is offering a few different holiday promotions. First, with the purchase of a handmade large rectangle key hook, shoppers will receive a free North Star Ornament to lighten up the holidays. In addition, there is a new buy one, get one free special for the Daisy Key Chains to help welcome Spring in the next few months. More promotions and specials will be added in the coming days, so visit http://palomapottery.com to learn more.
If you know someone with a new niece in the family, a jeweled picture frame, in masculine or feminine tones, is the ideal keepsake to welcome the baby. Amidst the plastic letters on the fridge, customers can include a gorgeous piece of art just for them. Preschoolers will celebrate their love of dogs or cats or fish with a personal, hand-sized magnet. Imagine the pride at hanging their artwork with their own special, sparkling piece.
Parents know that there are gifts that last the day, and there are gifts that delight for many years. Luckily, Paloma Pottery has expanded its offerings to include treasures for a full range of styles and tastes.
What to get for that boy who loves scary sea monsters? A Shark or Alligator magnet will work nicely. What about the little lady? Surprise her with her own crushed-glass butterfly of deep blue and indigo. Paloma's crackle glass finish is eye-catching to the young child, while perfectly smooth to the touch, pleasing both the parent and child.
School-aged kids will revel in the feeling of collecting their own special ornament year after year. Find a handcrafted, eco-friendly ornament for every personality - a dove for the peaceful, gentle soul; man in the moon for the dreamer; the bass fiddle for that young musician; a whale for the aspiring marine biologist. Of course, stars in all their sparkle are always a hit.
The pre-teen will cherish the Oval Soap Dish gift set or dazzling forest-tone Glass Pendant. At such reasonable prices, customers will find the ideal balance of precious gift items and accessibility. A shop-by-price feature allows shoppers to quickly choose items to match the budget as they enjoy the visually-stunning website.
Incense Gift Packages, 100% Beeswax Candles & Holders appeal to the college-age set, meeting new tastes with timeless elegance. Newlyweds will love a handcrafted Half Moon Table for their first home together. These kinds of pieces will bring stories of the holiday gatherings for generations. Herein lies the glory of Paloma's work: at once delicately beautiful while also durable and lasting.
Now Paloma is offering same-day shipping to ensure gifts arrive by Christmas. With free shipping on all orders over $25, gifts for young and old can be selected, wrapped and delivered all in one smooth transaction. For lasting treasures, the gifts of Earth and sea glass are a solid choice every time. Trends come and go, but a gift from PalomaPottery.com shines throughout the ages.
About Paloma Pottery:
Paloma Pottery has been online for over 12 years now, and the mark of endurance shines through her work. Continually improving and expanding her line, Whitney has grown Paloma Pottery into a thriving artisan presence. For those who are seeking exceptional quality gifts, unique, eco-friendly design as well as solid business ethics, PalomaPottery.com is the place. For more information, please visit http://www.palomapottery.com or call 877-669-0783.