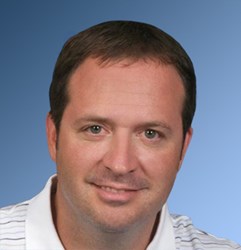 "Kris makes sure he is accountable to our clients and his colleagues. One of his great strengths is that he leads from the front, not the back." - Eliassen Group President Mark Biscoe
Wakefield, MA (PRWEB) December 18, 2013
Eliassen Group, one of the largest technology staffing and consulting services firms in the country, is pleased to announce that Kris Kurcoba has been promoted to serve as the director of its IT Staffing and Workforce Management operation in the Mid-Atlantic region, effective immediately.
Ranked 19th on Staffing Industry Analysts' list of largest IT staffing firms in the country, Eliassen Group partners with a multitude of private and public-sector clients in Maryland, Virginia, Delaware, and the District of Columbia.
In announcing the appointment, Eliassen Group President Mark Biscoe said, "It is very exciting that we are able to move Kris, one of our key leaders, into this role, instead of going outside the company. I think it is a true testament that Eliassen Group is committed to leadership development and nurturing our own top talent."
Kurcoba had served as the head of Eliassen Group's Baltimore IT staffing division for the last year, making an impact that could not be ignored, said Biscoe.
"Our Baltimore team is making a daily positive impact in the lives of all of our partners. That has been done, in large part, as a result of Kris' insistence on being accountable to our clients, his colleagues and himself. He has attracted several promising new stars to Eliassen Group, thanks to the type of person he is and his commitment to promoting a winning culture," Biscoe said.
Kurcoba joined Eliassen Group in 2010 after spending the previous 12 years at TekSystems and PAETEC in executive sales roles. His first position with Eliassen Group was a senior sales executive in the key account program.
"I am extremely excited about the opportunity we have in the Mid-Atlantic Region to expand our services on behalf of our new clients and cement the relationships we have with our existing partners," Kurcoba said. "The Mid-Atlantic Region has quickly become a national hub for technological innovators. We are perfectly positioned to help our clients create the products, tools and technologies that are making a positive difference in all of our lives."
About Eliassen Group
Founded in 1989, Eliassen Group drives the success of our clients, consultants, and employees within Technology Staffing and Consulting, Agile Services, Life Sciences Consulting, Workforce Management, Healthcare IT Staffing and Government Services. For 24 years, we have been at the forefront of innovation by uniting talented people and quality solutions within successful companies to drive their business forward. Eliassen Group is a privately held company headquartered in Wakefield, MA. For more information please contact us at 1-800-354-2773.
###