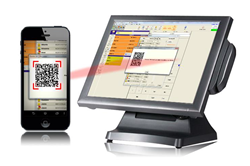 [DeliveryIQ] is definitely more than just GPS; it's dramatically changed the industry.
Needham, Mass. (PRWEB) December 19, 2013
In the restaurant industry, reducing costs and increasing customer satisfaction are the most significant advantages a restaurant operator can leverage to gain a competitive edge in today's world of expanding delivery options. FoodTec now offers technology that enables restaurants to thrive in the fast growing market for food delivery. FoodTec created DeliveryIQ, the first fully integrated mobile app, which helps businesses monitor and track their ability to deliver orders in a timely fashion. The solution provides up-to-the-minute information to customers and management including the driver's progress, exact location, and expected arrival time of each order. Customer orders are "mapped" precisely using location-based GPS technology, which is updated in real-time on the FoodTec POS system and DeliveryIQ. Customers and delivery restaurant operators now have a fully synchronized view of their delivery orders.
DeliveryIQ closes the order loop with FoodTec's mobile app that is completed integrated with the store-based POS solution enabling staff to optimize performance and greatly enhance their level of customer service. Restaurant managers can now make quick and informed decisions that result in improved customer satisfaction, reduced delivery times, and increased revenue. Most importantly, restaurants and their customers can have full order visibility so they no longer have to wait, wonder, or call to see how much longer it will take before their order arrives.
"Before we had our FoodTec POS system and our app, [delivery] was more of a guessing game", remarks Christos Thrappas, co-owner of NYC's Goodfellas Restaurant. "[DeliveryIQ] is definitely more than just GPS; it's dramatically changed the industry." According to the fifteen-year veteran, DeliveryIQ "reassures the customer" and creates "peace of mind".
Kitchen and management staff can leverage DeliveryIQ to their advantage to prep the next batch of delivery orders. Frantoni's owner Steve Mistretta, one of the first users of DeliveryIQ, shares his experience and results, "I know how long it's going to get back to me [our drivers]. I'm setting his route for the next two, he walks in, turns around, and goes right back out the door again". The accessibility to real-time data on the driver's location and order completion allows for better decision making and turn-around-time throughout every step of the process.
DeliveryIQ is user-friendly for customers and immediately accessible on their smartphones, online through the restaurant's website, and at the POS system. The smartphone displays the location of the driver using a GPS signal and delivers the data in real-time. FoodTec has developed a full array of optional but valuable mobile features for consumers including coupon redemption, mobile payment, signature capture, and ordering. Restaurant operators can also utilize DeliveryIQ with other compatible POS systems or simply add it to their existing FoodTec POS, which generates a complete set of analytics.
Watch the DeliveryIQ Video at http://www.youtube.com/watch?v=wLbVbpgfuyw. To learn more about FoodTec Solutions or the DeliveryIQ app, go to: http://www.DeliveryIQ.com.
About FoodTec Solutions:
FoodTec Solutions Inc., founded in 1996, develops integrated restaurant technology for all aspects of restaurant operations including POS, on-line ordering, labor scheduling, inventory, loss prevention, above store reporting, marketing, loyalty and gift card solutions. The company develops hospitality software and provides hardware, installation, implementation, training, integration, consulting and a full-range of technical support services throughout the United States.