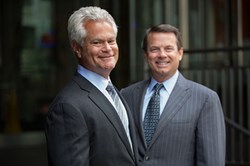 Chicago, IL (PRWEB) December 20, 2013
The Chicago personal injury law firm of Cogan & Power, P.C. announces that a $3.25 million settlement has been reached in a medical malpractice wrongful death lawsuit stemming from the death of Teresa Ochoa who died as a result of an untreated brain aneurysm.
As the lawsuit alleges, Ms. Ochoa suffered from migraine headaches and had been receiving treatment for several years from DuPage Medical Group. In December 2006, Ochoa went to Alexian Brothers Medical Center complaining of an unusually severe headache where she received a pain shot and was sent home. Over the next several days, she visited doctors at both Alexian Brothers and DuPage Medical Center and received medication for a sinus infection and pain shots. At no time did she receive any radiographic studies to determine if a more serious condition was involved. Several days later she was taken to Elmhurst Memorial Hospital where she was diagnosed with an untreated aneurysm and, six days later, she died as a result of bleeding in her brain.*
"As the lawsuit alleges, Ms. Ochoa didn't receive the medical care she needed and deserved," said John A. Power, a partner at Chicago personal injury law firm Cogan & Power, who represented the decedent's family in the lawsuit. "Ms. Ochoa lost the opportunity to receive the necessary medical treatment due to misdiagnosis."*
Power went on to say: "A medical group that is comprised of more than 400 doctors should have more than $1 million in coverage, It is a tragic situation that the settlement was constrained to policy limits."
A prominent member of the Chicago legal community, Chicago personal injury lawyer John M. Power has an impressive record of successfully representing victims of personal injury, medical malpractice, and wrongful death. A founding partner of Cogan & Power, P.C., he has secured for his clients multi-million-dollar verdicts and settlements totaling in excess of $85 million.
The Chicago personal injury law firm of Cogan & Power, P.C. is comprised of attorneys dedicated to protecting the rights of accident and injury victims, and helping clients obtain maximum recovery for the victims of medical malpractice, motor vehicle accidents, wrongful death, and other personal injury accidents.
*The case is Gloria Ochoa v. Alexian Brothers Medical Center, et al., No. 08 L 14126 (Cook County Circuit Court).