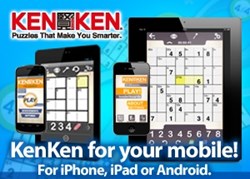 It's like sudoku and kakuro rolled into one, but better!
Pleasantville, NY (PRWEB) February 13, 2014
KenKen, the world's fastest growing, most addictive, and most vibrant new puzzle since Sudoku, has just released its first app for Android devices…and it's absolutely free.
Following the great success of its wildly popular, 4.5 star-rated app for the iPhone and iPad, Nextoy is now offering its world-conquering KenKen puzzles to Android users. "Ken-thusiasts" of all ages and skill levels can now play the game that Will Shortz, puzzle editor for the New York Times, calls "better and more addicting than Sudoku."
"We're very proud of the newest addition to our KenKen family of brain exercising, fun engaging products," noted Robert Fuhrer, President Nextoy. "Now that our Android app has been released, KenKen fans can find and enjoy our puzzles virtually anywhere…online, on their smartphones and tablets, in newspapers, in bookstores, and very soon in airplanes around the world."
Now published in over 150 newspapers worldwide including the New York Times, The Times (UK) and the Los Angeles Times, KenKen is the fastest growing syndicated puzzle in the world. Over 2 million books have been sold, millions of puzzles are played online each month at kenken.com, and its apps are among the best selling logic, math and educational puzzles in the App Store and (now) Google Play Store.
Endorsed and published by groups and people as varied as the New York Times puzzle editor, the AARP, Scholastic Inc. and the NCTM (National Council of Teachers of Mathematics), KenKen is truly a puzzle for all ages, genders, and nationalities. It's simple to learn, easy to pick up, and hard to put down.
You can download the KenKen Classic II app for Android free, here.
About Nextoy, LLC and its KenKen® Puzzles
Nextoy, LLC was founded in 1981 by Robert Fuhrer to bring original toy, puzzle and game ideas from all around the world to the United States. KenKen, Nextoy's flagship product and the world's fastest growing brain training puzzle since Sudoku, was invented by renowned Japanese educator Tetsuya Miyamoto. His main goal was to improve students' cognitive abilities and to provide a brain stimulating exercise that would be understandable, fun and challenging for people of all levels. KenKen currently appears in over 150 newspapers worldwide, online, in apps, and in thousands of bookstores. For more information, to learn about KenKen's education initiatives, or to play virtually unlimited KenKen puzzles, visit http://www.kenken.com.