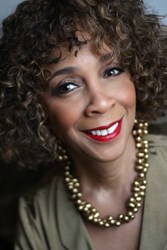 I thought my singing career was over, but four years later I'm still singing jazz, not singing the blues
Columbus, Ohio (PRWEB) December 22, 2013
Jazz singer Kate Ross is launching her debut CD, titled People Make the World Go Round, on January 4, 2014 at the Sidebar Restaurant. "Releasing the CD is the fulfillment of a dream for me," says Ross, whose distinctive contralto voice has been a feature of the Columbus, OH Jazz scene for about three decades. "I'm also realizing another dream, – making my songwriting debut. I've co-written the track, Kate's Song, which tells the story of my life."
Ross has led an eventful life. Diagnosed with Degenerative Disc Disease (DDD) in the 1970s, she has battled pain and occasional depression throughout her career. Her indomitable spirit has helped Ross rise above the disease to work, sing and successfully raise her two daughters as a single mother. There have been setbacks, including suffering the second of two broken necks in 2009. "I thought my singing career was over, but four years later I'm still singing Jazz, not singing the blues," she says.
Working on the CD has been very therapeutic for Ross, who hopes that other people coping with physical and mental challenges will find the same solace in music she has. "I've always seen music as magical and enchanting; I just didn't know how healing it would be," she says. "I hope to share that gift with others through my CD."
Ross's fans will recognize the CD's title track as her signature tune. It was originally performed by the Stylistics and was written by Thom Bell and Linda Creed. One of the reasons for including it is to honor the contribution of the many friends and family members who have helped her achieve her dream. "No-one achieves anything alone," she says.
Kate Ross has worked with many Jazz and R&B groups, including The OSU Jazz Orchestra, Eddie Baccus Jr., Hank Marr Trio, Broad & High Jazz Trio and the Bobby Floyd Trio. She frequently performs at the Clintonville Woman's Club in Columbus, Ohio as a featured vocalist with Vaughn Wiester's Famous Jazz Orchestra.
The singer continues to chase her dreams, recently checking off another long held goal. Ms.Ross helped facilitate the opening of a new venue for Jazz in Columbus called Jazz on Main, located on the lower level of the Sidebar Restaurant, where she occasionally performs. "It is a magical place with incredible ambience so it's the perfect venue for the CD launch," says Ross.
About Kate Ross:
Columbus, Ohio native Kate Ross (also known as Kathy Kimbrough-Ross) has been gracing local venues with her distinctive singing voice, performing Jazz/R&B styles for more than 30 years. Ms.Ross has performed as a solo artist and accompanied by a trio, quartet, or big band. Find out more about Kate at Kate Ross Music.
***
Media contact:
Kate Ross
Hm. 614 575-0535
Cell 614 929-9969
Fax 614 577-0535
http://www.katerossmusic.com
http://www.Youtube.com/katerossvocalist
http://www.Facebook.com/katerossvocalist
Twitter @katerossvocals