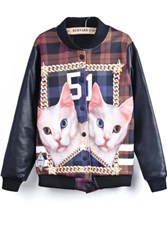 Childishness and fairy tales will be the common factors of design of 2014 spring and summer women clothing.
New York (PRWEB) December 20, 2013
The term 'LifeLike' was first introduced to Oasap.com at the launch of the 2013 fall and winter collection, and it reflects the company's unique editing conceptions, focused on the customer. Rather than dictating styles or following trends, OASAP aims to provide clothing that is innovative, universal in design, and of high quality. LifeLike is about offering clothing that promotes comfort and enriches lives, allowing customers to create their own individual style.
Commenting on today's launch of new arrivals of Oasap.com, OASAP Brand Director Yuki said, "The LifeLike 2014 spring and summer collection promotes comfort and individual style. OASAP products offer superior functionality, and the items are made from the inherent features of these high quality natural fabrics. Core basics are back, such as lace blouses and short skirts, with new designs and updated features."
The 2014 spring and summer collection will showcase a special line of women's clothing that has been designed with the trending. Through this collaboration, OASAP wishes to offer products reflecting elements of animals and fairy tales style. The new products will be available on Oasap.com for worldwide customers. Yuki added, "Childishness and fairy tales will be the common factors of design of 2014 spring and summer women clothing. OASAP has grasped the latest high street fashion trends and I am very pleased to be launching the new products."
OASAP today also releases the New Year's Deals to celebrate the upcoming year of 2014; all customers will save up to 60% off for selected items which include graphic sweatshirt, winter coats, spring women dresses and etc.
ABOUT OASAP
OASAP IS: A High-street Fashion Online store
OASAP Likes to: Deliver fashion & love!
OASAP is a global online store dedicated to high-street fashion by offering various kinds of women's apparel, bags, shoes, jewellery, accessories, beauty products, etc.
OASAP was founded in late 2011, and has already grown to the leader of high fashion online stores. We keep updating products at a high rate every day. Now we update more than 600 new products each week. Those products mentioned definitely belong to the latest fashion trend.
OASAP's mission is to make you close to the planet's most cutting-edge fashion, no matter where you are or what class or age group you are in. Pursuing fashion is the right of every woman.