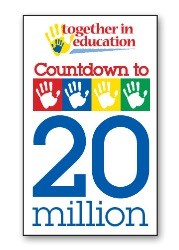 Charlotte, N.C. (PRWEB) December 19, 2013
Harris Teeter announced today that it is donating $256,813.15 to schools this month through its Together in Education (TIE) program, Harris Teeter's fundraising program for schools in its communities. This is the first of three donations the Company will make during the 2013-14 school year, and it brings Harris Teeter one step closer to reaching its $20 million contribution milestone.
Four hundred and twenty five (425) schools will receive a check from Harris Teeter during the first payout of this school year. This first payout reflects total dollars earned by participating schools between Aug. 1, 2013 and Nov. 30, 2013.
Top Earning Schools, First Payout:
Grimsley Senior High Choral Program; Greensboro, N.C.: $7,130.60
Page High School; Greensboro, N.C.: $4,178.20
Randolph Elementary School PTA; Arlington, Va: $4,125.22
Providence High School Rugby Club; Charlotte, N.C.: $3,839.38
Providence High School PTSO; Charlotte, N.C.: $3,486.06
Hopewell High School JROTC; Huntersville, N.C.: $2,436.14
W.H. Taylor Elementary School; Norfolk, Va.: $2,200.31
Hoffman-Boston Elementary School; Ashburn, Va.: $2,192.10
Creighton's Corner PTA; Ashburn, Va.: $2,164.14
Lynn Road Elementary School; Raleigh, N.C.: $2,047.08
Re-linking is integral to the success of any Together in Education program, and to encourage re-linking efforts, Harris Teeter launched two TIE promotions this school year: the School Linking Sweepstakes and the TIE Re-Link Sweepstakes.
As part of the School Linking Sweepstakes, Harris Teeter will automatically enter all TIE schools with at least 100 links in a monthly drawing to win either an ice cream party or a teacher appreciation day. The program ends May 31, 2014. For more information about the 2013-14 School Linking Sweepstakes, click here.
The TIE Re-Link Sweepstakes ended Nov. 5, 2013. As part of that program, every VIC household linked to a school in Harris Teeter's Together in Education program was entered into a sweepstakes to earn $200 in Harris Teeter gift cards for themselves and $200 for the school they support. Harris Teeter held weekly drawings between Aug. 1, 2013 and Nov. 5, 2013 and awarded 14 grand prizes. Click here for a list of winners.
Harris Teeter continues to encourage active participation in its Together in Education program and looks forward to celebrating with Together in Education schools when it achieves the $20 million milestone this school year.
For more information about Harris Teeter Together in Education and to watch our countdown to $20 million, please visit harristeeter.com.