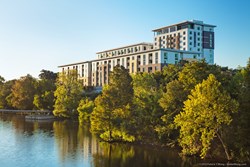 "We went above and beyond city requirements to respect the sensitive location next to the lake and create a sustainable development," said John Orfield, design principal, BOKA Powell.
Austin, TX (PRWEB) December 20, 2013
BOKA Powell LLC announced the completion of RiverView, a full-service sustainable apartment development near downtown. The 280,000-square-foot complex sits on a four-acre waterfront site on Lady Bird Lake, and offers luxury amenities, spectacular city and lake views, and access to the city's new boardwalk, hike and bike trail system.
BOKA Powell provided planning and architectural design services for the project, which includes 302 apartments, a fitness center, resort-style pool, resident lounge, soundproof jam room, demonstration kitchen and business center. Four contemporary buildings ranging from five to 11 stories are clustered around a lushly landscaped courtyard and pool deck.
"We went above and beyond city requirements to respect the sensitive location next to the lake and create a sustainable development," said John Orfield, design principal, BOKA Powell. "We placed all parking underground, and covered it with a green roof system that collects, filters and stores rainwater in a below-grade cistern for irrigation. It's the first system of its kind in Austin."
Occupying an urban infill site along I-35 and East Riverside Drive, the project is designed to be a model for green development and is seeking U.S. Green Building Council LEED® Silver certification. Green features include water-saving plumbing fixtures, low-VOC finishes, local and recycled materials, and preferred parking for fuel efficient vehicles.
BOKA Powell collaborated with City of Austin water and environmental staff, as well as the parks staff, to ensure the compatibility of the public and private improvements. A direct access point at RiverView connects pedestrians to an elevated recreational boardwalk being built by the City of Austin public works department suspended above the water and on the banks of Lady Bird Lake.
Clad with a mix of brick, stucco, and metal panels, the exterior design of RiverView is a juxtaposition of old and new. Soaring roof planes unify the buildings and focus the orientation of the project toward Lady Bird Lake. A dramatically-lit sculpture in the glass-enclosed lobby acts as a lantern, illuminating and identifying the front entrance for visitors to the property.
"Projects like RiverView are part of a growing trend regionally and nationally: the expansion of high density living outside of downtown," says Eric Van Hyfte, AIA, project manager at BOKA Powell. "This development could have taken almost 80 acres in a typical single family 'tract style' model, but accomplishes the same density on a four-acre site."
RiverView is the first high-rise residential development south of the Lake in Austin.
Dallas-based CDK Realty Advisors LP provided the equity for this project. Southern Cross Construction served as the construction contractor, and The Whitworth Company provided project management services. Molly Nelson of Prestonwood Design Group provided interior design services on behalf of CDK Realty Advisors.
About BOKA Powell
BOKA Powell (http://www.bokapowell.com) is a nationally recognized architectural design, planning and interior design firm, with office locations in Austin, Dallas and Fort Worth, TX. BOKA Powell's areas of focus include commercial office, health care, hospitality, higher education, multi-family and mixed use planning and design. Other notable Austin projects include Lamar Union, the Four Seasons Residence Tower, Barton Place, the W Austin and Austin City Limits' new home - the Moody Theater. BOKA Powell was also selected as one of three finalists in a recent Austin design competition to transform the former Seaholm power plant's water intake station, also located on Lady Bird Lake.