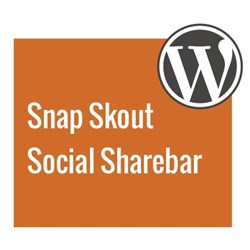 We love being a part of this creative community and sincerely hope we help generate revenue for each site owner so they can do even greater things.
Seattle, WA (PRWEB) December 20, 2013
Snap Skout, a media technology startup focused on delivering the best and most relevant deals on the web, just announced the availability of its first WordPress plugin, the Snap Skout Social Sharebar. With this new plugin, WordPress bloggers can easily download and install a sharebar for no-cost that features the most popular social sharing icons (Facebook, Twitter, Pinterest, Google+, Reddit, Tumblr) and Skout, a button that surfaces the best deals on the web related to the content on the page. Skout provides a new revenue opportunity for bloggers who want to make money from advertising but do not want the distraction of flashing banner ads or pop-ups. The plugin is available for download in the WordPress directory http://wordpress.org/plugins/snapskout.
By partnering with the best deal networks--and advertisers such as Groupon, LivingSocial, Amazon Local and Gilt, Snap Skout is able to deliver the most relevant offers to readers at the right time and place. When a reader clicks through to an offer, the publisher gets paid.
As the world's most popular blogging platform, WordPress currently powers about 60 million websites around the world. As of August 2013, WordPress was being used by more than 18.9% of the top 10 million websites (source: Wikipedia). By releasing a free social sharebar plugin for WordPress users, Snap Skout hopes to stimulate adoption and increase user feedback so it can become a meaningful contributor to the WordPress world.
Aaron Goodin, CEO of Snap Skout, says, "We love being a part of this creative community and sincerely hope we help generate revenue for each site owner so they can do even greater things."
In addition to providing social sharing functionality, the Snap Skout Social Sharebar features include:

Simple horizontal and vertical design that compliments most WP themes
Fully supported with excellent customer service
Light weight script which doesn't slow your site's loading speed
Only sharebar that includes the Skout button which helps your readers access helpful information and deals related to the content on the page
Access to Quantcast Analytics, a powerful website statistics capturing and reporting tool that helps you understand exactly who is visiting your website and what you can do to make it better
Option to select the order the social sharing icons are displayed
Option to disable the buttons that you don't need
CSS Options to customize the way the sharebar appears
Manage everything from your WP admin
No programming skills required
Super simple, secure and reliable
About Snap Skout
Located in Seattle, WA, Snap Skout is a media technology startup dedicated to connecting brands and customers in an easy, helpful and fun way. Launched in 2013, the Snap Skout widget is a content discovery and digital advertising tool that serves the best deals and exclusive offers related to the content on the page. Snap Skout drives new revenue and increases reader engagement for publishers; while offering advertisers with an opportunity to extend reach in an elegant, non-intrusive format. For more information, visit http://www.snapskout.com.