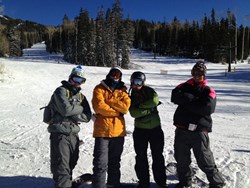 Winter in Flagstaff gives them [B2B residents] the opportunity to experience and try new things...
Flagstaff, Arizona (PRWEB) December 21, 2013
Back2Basics outdoor adventure rehabilitation center is putting away the surfboards and kayaks, and taking out the skis and snowboards for the winter season.
"Flagstaff is centrally located allowing Back2Basics the ability to continue our outdoor trips throughout the winter," Residential Supervisor, Chase Christensen said. "Having four distinct seasons gives us the opportunity to explore many different disciplines of outdoor activities."
Kaylie Corrigan, Back2Basic's Outdoor Supervisor, is in charge of planning activities year round, which she says is easy to do while living in Flagstaff. "I love trip planning during the winter season, because I can choose from so many varying climates. We can be skiing one week and hiking in 70 degree weather down south the next."
Some of the winter activities already on the B2B agenda this season include fat-tire snow biking, snowshoeing, cross country skiing, snow shelter camping, skiing and snowboarding.
"Winter at 7,000 feet is something that our predominant demographic doesn't get to experience that often," Corrigan said. "Many of our residents, who are from coastal towns, probably feel like they're taking an extended vacation in a foreign country. Winter in Flagstaff gives them the opportunity to experience and try new things that they otherwise would have probably never had the chance to try."
Corrigan believes the varying climates in Arizona and neighboring states keep the outdoor adventure program interesting for residents.
"The best part about living in Flagstaff? Once we get our fill of the snow, we can head south!" Christensen said. "We are planning to backpack the Superstition Mountains, climb at the Red Rocks State Park in Nevada and explore the Conchise Stronghold in the Dragoon Mountains later in the winter season. We chase weather, adventure, and new experiences that excite the spirit."